Here at The Zen Vegans, we explore a wide range of topics. There are how-to posts covering the transition and adjustment phases of going vegan, along with thoughtful lifestyle pieces that align with our values of balance, health and compassion for all.
We also have an assortment of recipes for you to discover! We're passionate about food, and we don't subscribe to the notion that a plant-based diet is restrictive.
Finally, there's travel. We love to explore new places, but we understand first-hand how challenging it can be to maintain a vegan lifestyle when you're jet-setting around the globe (cultural differences, language barriers, and so on). That's why we create vegan travel guides, where we share our top food finds and experiences from around the world!
Transitioning to a vegan or plant-based lifestyle is an individual journey, and it looks different for everyone.
Whether it feels like smooth sailing or a giant leap into the unknown, we stand for a patient approach. Ultimately, going vegan doesn't have to be stressful! In fact, we've found ways to make it a peaceful (and even joyful) journey.
But as budding vegans, we had our fair share of missteps along the way. Feeling impassioned to do it 'right', we would often judge ourselves for falling short. It felt as though our efforts didn't amount to much if we weren't perfect.
Today, however, things are a little different. We've decided to do the vegan thing our way – the "zen" way.
We realised that following the middle way was right for us: by this, we mean balancing fiery passion with gentle self-compassion. We founded The Zen Vegans to extend this philosophy to any aspiring vegans who are struggling or simply being hard on themselves.
Whether going from meat-eater to part-time vegetarian, or from flexitarian to fully plant-based, it's important to remember that small changes add up to big differences.
We also realise that not everyone wants to be known as "the Vegan". If you want, your decisions don't have to dominate every conversation, or entirely define who you are! This means remembering that we are more than vegans.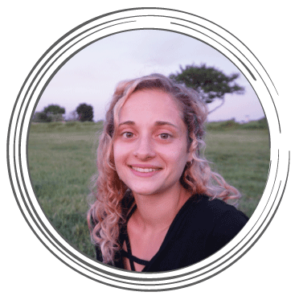 Hello! My name is Eseelle. Originally from Yorkshire, I've lived in London for the last 8 years. London has a special place in my heart – it's where I met my husband Oli, became vegan, got my PhD, and landed my first job.
Being half-Iraqi and half-English, I was lucky enough to grow up embracing two cultures – especially surrounding food. I got my passion for baking from mum's side of the family, and my passion for cooking from dad's. Spend ten minutes with my family, and you'll quickly see a great zeal for food. From discussing what we've been cooking recently, to planning lunch while eating breakfast, to the hum of the food channel always on in the background.
I vividly remember the day I decided to 'become vegan'. While Oli and I were watching a documentary on veganism, I remember thinking, "I can't ignore what I've just learnt, or unsee what I've seen".
In that moment, we both knew our lives had changed and spent the rest of the weekend debriefing. What would this mean for us? What would we tell our foodie families? And for Oli – what about pizza, for goodness sake? For me – what about CHOCOLATE?! Ignorance had been bliss, but my eyes were finally open, sparking the journey to veganism that I'm still on today.
Out of the two of us, I would definitely describe myself as the 'foodie', often taking the lead in the kitchen and seeking out the latest vegan eateries. Oli meanwhile, is always up for the ride – ready to try anything new with a smile and an insatiable appetite.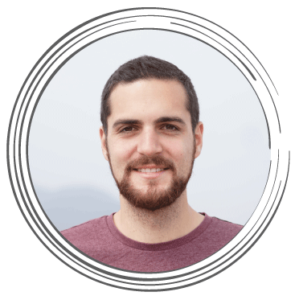 Hey! I'm Oli, the other half of The Zen Vegans.
I've lived in London for essentially my whole life. It's where I met my wife Eseelle, discovered the joys of having a foodie partner, learnt about veganism (I still am), and worked as a medical doctor before leaving to explore other things.
I'm passionate about personal development, psychology, mindfulness, Buddhism, and of course the pinnacle of human ingenuity – pizza.
In the few years we've been on this path, so much has changed… most shops and eateries are so well-stocked with creative meat substitutes that I rarely feel deprived! Now really is the best time ever to go for it.
My side of the story is a bit different to Eseelle's – as a man, there have been some unique challenges around embracing veganism (I'm looking at you, over-the-top claims about protein deficiency and excess oestrogen). But then again, there will always be a million and one reasons not to do the hard (but right) thing.
What keeps me on course is staying connected with my purpose for going plant-based, which is why my resolve has only deepened over time. At the start, environmental and health concerns were my main focus. But more recently, the gravity and scale of how poorly we're treating animal-kind is really starting to sink in and increase my dedication.
While Eseelle is the foodie, I guess you could say I'm the philosopher – I'm always up for discussing uniquely vegan ethical questions and tricky dilemmas.
If anything we've said resonates – or if you'd just like to say hi – then feel free to reach out via email: [email protected]
Otherwise, happy browsing!
Thanks,
The Zen Vegans