So you've decided to get married (congratulations!) and you want your wedding to reflect your vegan lifestyle.
Throwing a vegan wedding can present many challenges, from the logistics of organising vegan food, to some people's opinions on the matter, plus the general stress of wedding planning. But fear not, we have you covered.
After throwing a vegan wedding in 2021, using a dry-hire no less (I think we deserve an honorary degree in project management at this point), we've really been through the ups and downs of this journey. We've put together our top tips for throwing a vegan wedding, as well as our experiences along the way – including where we went wrong.
What is a vegan wedding?
Well, a vegan wedding is what the name suggests – a wedding that doesn't include any animal products! Think food, drinks, clothing, beauty products and decorations. You can go further and try and make your wedding as environmentally conscious as possible, after all, the average UK wedding produces 14.5 tonnes of the greenhouse gas CO2!
Here are my top tips for throwing a vegan-friendly wedding.
1. Hire a Vegan Caterer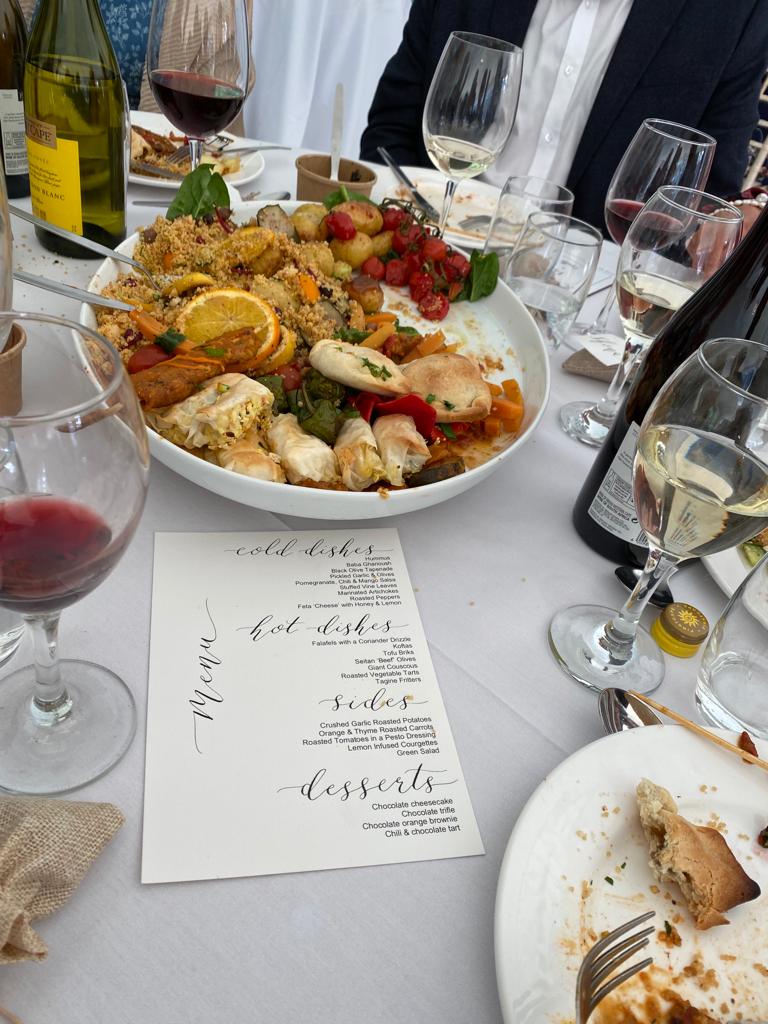 It was very important to us that all the food at our wedding would be vegan, it was a non-negotiable. We weren't prepared to spend any money on animal products – especially for so many people! If you had 100 people at your wedding, and everyone ate a chicken breast, that's 50 chickens dead – absolutely not!
We looked at a few different venues, and found that if we went with a venue that provided a caterer, the options for vegan food were extremely limited. We decided that the best thing for us was to hire a vegan caterer, plus, then we were supporting a fully vegan business. Depending on the venue, it can be difficult to bring in your own caterer. Some of the places we looked at had a large fee to bring someone in, so we decided to go for a dry-hire wedding.
A dry-hire wedding is where you just hire an empty space, and you organise the rest (staff, food, drinks, chairs, tables, decorations, music etc). Like organising a wedding isn't hard enough?! At least this way we could make the day what we wanted.
Once we found a caterer*, the fun part started – menu planning! We decided to go for big sharing platters of mezze style food. This way there (hopefully) would be at least one thing each person would like.
Before hiring your caterer, check out reviews, try to speak to couples that have used them before, see if there is a way you can taste their food so you know what to expect.
*Unfortunately, although we were fairly happy with the food served at our wedding, I can't recommend our caterer. On the day, dishes were missing, some dishes were cold, service was slow and we were overcharged. Nearly a year later we still haven't been paid back what we're owed – I wouldn't want anyone else to go through what we have with them.
2. Bring a Non-Vegan Friend to the Tasting
If you're worried that your non-vegan guests won't like the food, or you don't trust your own taste buds, take a non-vegan friend along to the tasting.
While we did have a non-vegan friend taste the food we were going serve, we didn't actually bring her to the tasting. It just so happened that we had loads of left-overs and she happened to be around! Luckily she confirmed what we knew – it was good.
3. Don't Forget the Cake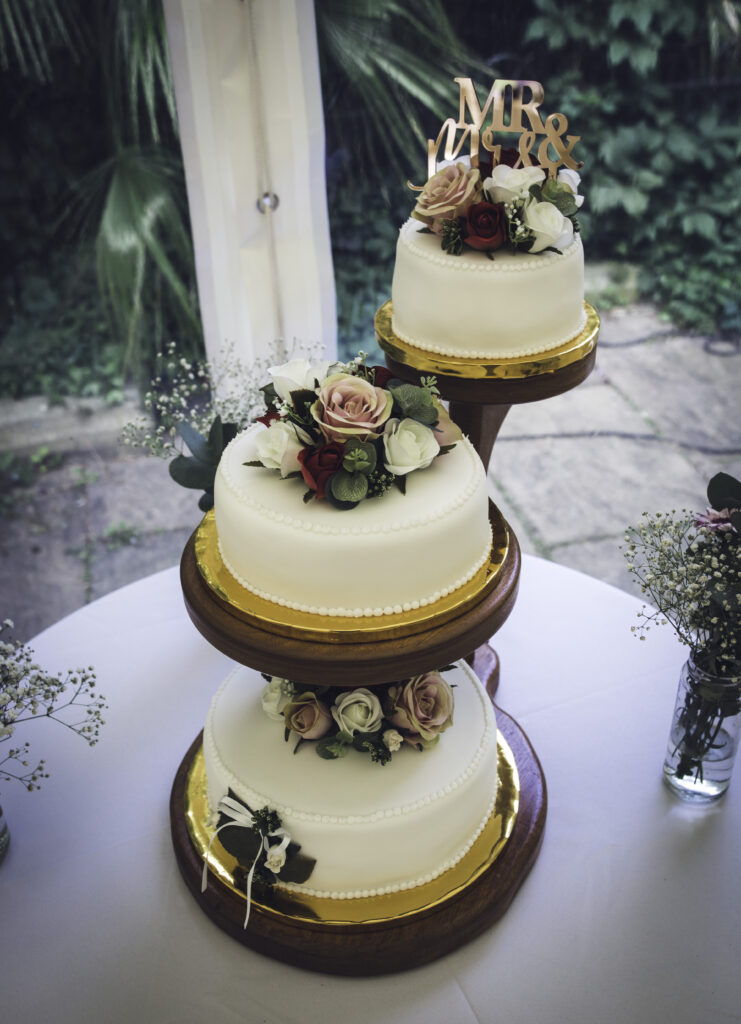 Being a lover of desserts, I wasn't about to miss out on cake! There are many bakeries that will cater for vegans now, so it's easier than ever to get a vegan-friendly wedding cake.
Luckily for me, my wonderfully talented auntie made our wedding cake. We had three tiers, one almond, one chocolate hazelnut and one coffee and walnut – all deliciously vegan friendly.
Note – vegan cakes can be harder to stack. If you want more than one tier, use a cake stand that separates the tiers. It will avoid any construction-related disasters.
4. Vegan Alcohol
Ask the bar staff to only serve vegan alcohol, or if you're stocking the bar yourself (like we did), just remember to check what you buy, as some alcohols aren't vegan friendly. 
5. Clothing
If you're living a vegan lifestyle you'll know that veganism goes beyond what you eat. You also have to think about what you wear! This means avoiding clothes and shoes made from leather, suede, silk etc.
If you want to be even more eco conscious, opt for second-hand. The environmental impact of fast fashion is becoming an increasing issue, so choosing pre-loved clothing is the sustainable option.
Understandably, this isn't for everyone, especially if you've had a particular wedding dress in mind and you can't find the right one second-hand. Plus, it's a special day, and perhaps part of that is having a new dress for you. But if you do choose to go second-hand, it'll probably save some pennies, I went this route with my dress and it saved me over £1000. 
Also, think about what you'll do with your wedding dress after the wedding. Will you donate it? Repurpose it? Sell it on?
Of course, it's not just the wedding dress that you have to think about. There's suits, bridesmaids dresses, accessories…
As I've said, we're not perfect. Our bridesmaids dresses were bought new, as it was hard to find matching dresses second hand, and Oli's suit was new. Luckily suits can be worn again and again, I can't really think of another occasion where it'd be acceptable for me to wear my wedding dress again…
6. Hair & Make-up
Like with clothing, you'll want to make sure the products you use are as vegan-friendly as possible.
These days there's loads of makeup and hair products that are vegan and cruelty-free. Speak to your make-up artist and hair stylist about what options they have.
7. Decorations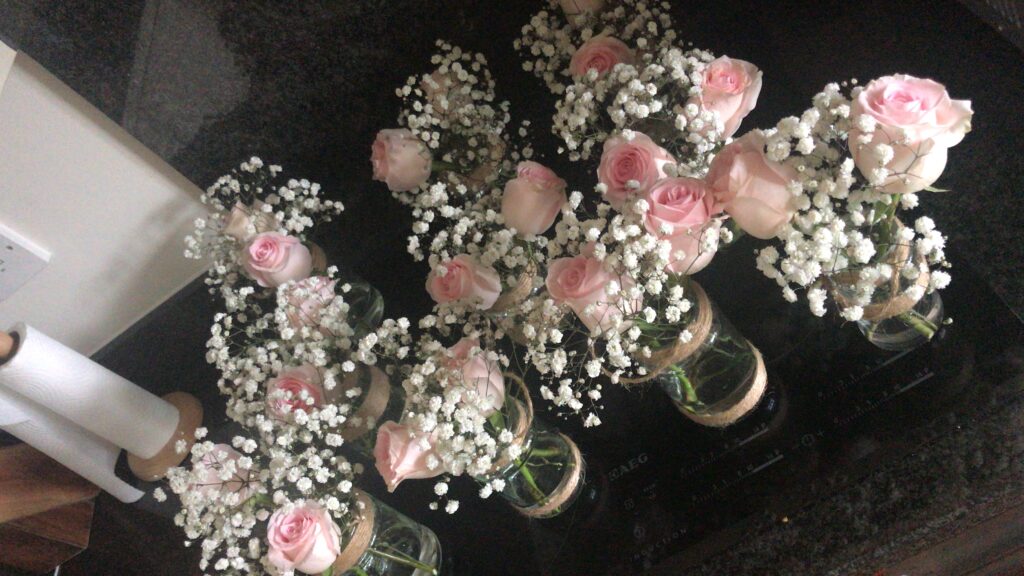 There are many ways you can decorate your ceremony and reception venues. This is a great area to try and be as environmentally conscious as possible, from going minimal, using recycled materials to using local vendors. It's also a great opportunity to get creative!
Ceremony
We chose to get married outside in a beautiful park (thank god it didn't rain), so we hardly needed any decorations.
The flowers we did have were taken to where the reception was being held after the ceremony, so they doubled-up. This saved on resources and money.
We also made biodegradable confetti. All you need is leaves, a heart shaped hole-punch and a little time. Because our ceremony was outside, having biodegradable confetti also meant no clean-up after it was thrown. Win-win.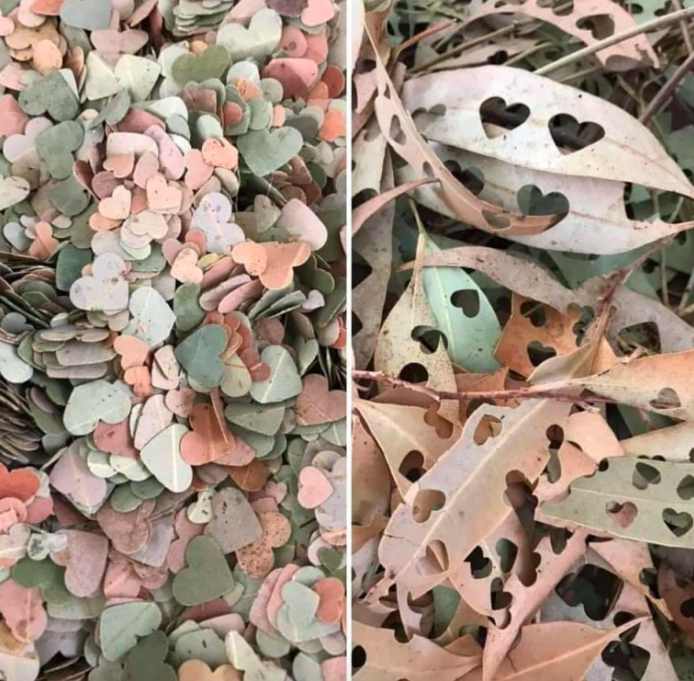 Reception
I decided that I didn't have enough to do, so I made all the centrepieces and extra decorations!
Using recycled glass jars, I made candles using vegan-friendly soy wax. These sat alongside some flowers in more recycled glass jars – not a piece of plastic in sight!
We opted for flowers that were in season, this way they're more likely to be locally sourced and cheaper.
We had a few bar tables that I thought would look a bit bare with nothing on them. So what did I do? I had an empty glass jar placed on each table, and after the ceremony my bridesmaids put their bouquets in the jars, making beautiful centrepieces.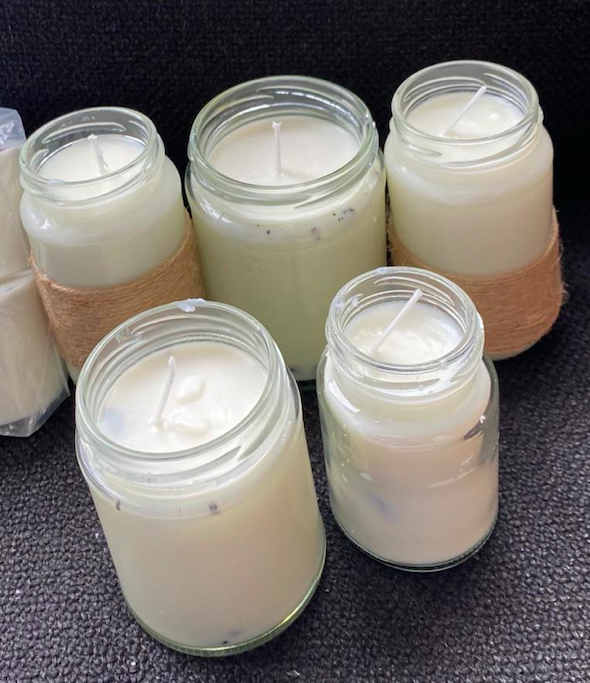 8. Keep Things Local
By keeping things local, you can massively cut down on not only yours, but your guests and your vendor's transport costs. This will have a huge impact on your weddings carbon footprint and cost.
We made sure that the vendors we used were as local as possible. This included the marquee, caterer*, bar, hair stylist, and flower companies.
Because our wedding was in London, many of our guests were able to travel using public transport. I appreciate this isn't always possible, especially if your venue is in a remote location, but it's something to think about if you want your wedding to have as low of a carbon footprint as possible.
*full disclosure – the caterer was more local when originally booked them but they moved further away before the wedding.
9. Let people know
Okay, so we didn't declare that we'd be serving vegan food at our wedding. For us, we didn't feel the need too because we've been vegan for such a long time, and we didn't see why our guests would need to know.
But, if you wanted to give people a heads-up, you could let them know on your invitations, along with a request that people don't bring any animal products along with them.
10. Invitations
Speaking of letting people know, how about you save the paper and send a evite? We did this and it was cheaper, and quicker than paper options (especially if you're inviting people from abroad).
If you want to send physical invites, you could opt for eco-friendly paper options like recycled and biodegradable paper. Since our wedding, I've seen some very cool invitations, like seed paper ones that you can plant – I kind of wish I'd done that!
11. Dealing with Family and Friends
Okay, so people have found out you're throwing a vegan wedding. You might be lucky and not have any issues from family and friends. Unfortunately, some people have opinions of what they think a wedding 'should' be, and will let you know.
We faced some opposition when people inevitably found out the food would be vegan. I was told by one family member that expecting everyone to eat vegan food at my wedding was unfair on them. Another declared that they'd have to have a steak the day before to survive…
Everyone will handle objections to their decisions differently, but I've outlined some advice that may help dealing with criticisms that might arise from throwing a vegan wedding:
Explain the reason for your decision
Veganism is important to you, and you're not willing to change your principles for others.
You don't want your hard earned money to pay for non-vegan food.
You don't want to be responsible for so many animal deaths and live with that guilt.
Maybe you don't want the ill thought out vegan option, and you'd like to eat the same thing as everyone else on your wedding day.
Remind people that it's

your

wedding day, and it has to reflect what you want.
Dole out a reality check
Try to get people to see that this isn't about them, it's about you, your wedding, and your principles.
Remind people that they can survive one meal without animal products.
Again, it's one meal – you're not asking anyone to become vegan.
Remember, a wedding isn't actually about the food, it's about two people getting married!
Also, you're under no obligation to feed anyone – if someone doesn't want vegan food, they don't have to eat!
Stand by your principles
If someone is really throwing up such a fuss about attending your vegan wedding, are they really someone you want there?
It might be hard if you're facing a lot of criticism, but in the long run you'll be happy that you stuck to your principles.
12. Avoid Plastic where you can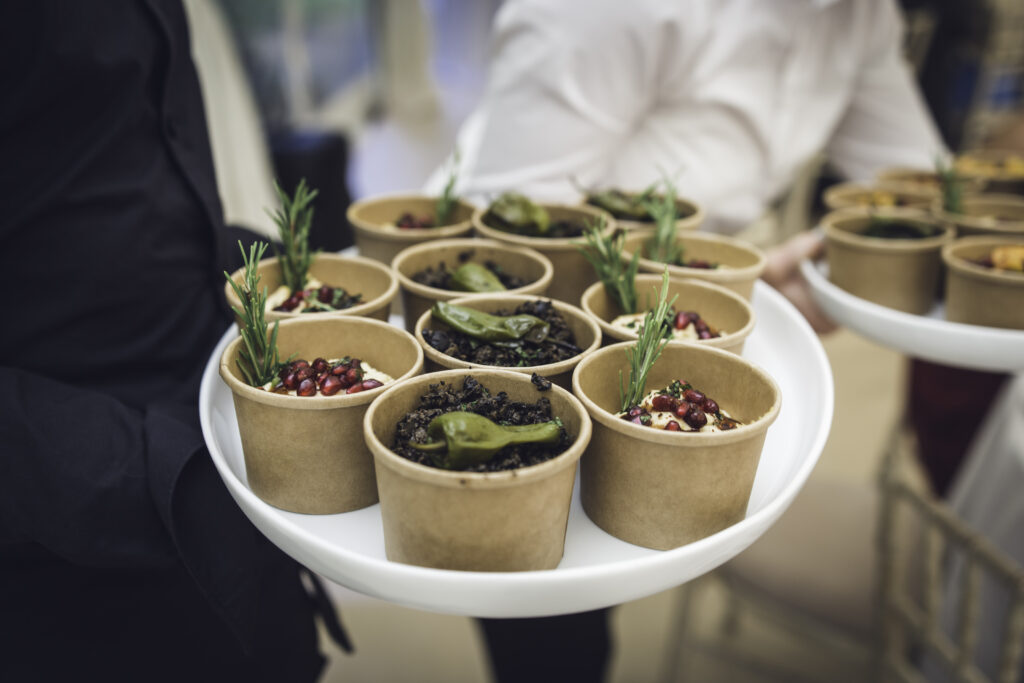 Weddings can use so much single use plastic, mainly from little things that add up. Nowadays, a lot of products you order, from flowers to decorations to food, will be delivered wrapped in plastic. 
Plastic isn't always avoidable, but here are some ways to avoid it:
Ask the bar to not sell or offer any drinks in plastic bottles or use plastic straws
Rent crockery, cutlery and glassware or use paper/bamboo disposable options
Go plastic free with your favours
Avoid plastic decorations like balloons, confetti (unless it's biodegradable), photo booth accessories and single-use cameras
If you want to have lawn games, get wooden versions instead of plastic
Buying items second hand can sometimes avoid plastic wrapping
Use reusable or biodegradable bags
Buy dresses without sequins or polyester
13. Offset your wedding
However environmentally conscious you try to be, your wedding day will have a carbon footprint.
You can offset this by making a donation to plant trees. There are some handy online calculators to help with this, see below for how we calculated our weddings carbon footprint, and found out how many trees were needed to plant to offset our footprint.
Carbon Footprint Calculations:
Wedding using lessstuffmoremeaning.org           = 5.12 tonnes CO2eq
Flights using carbonfootprint.com                          = 1.484 tonnes CO2eq
Honeymoon (i.e.. hotel, transport) radsite.co.uk   = 0.25 tonnes CO2eq
Trees to Offset Carbon Footprint Calculations:
Econ.be says 31 to 46 trees are needed to offset 1 tonne of CO2, so:
Wedding = 5.12 tonnesCO2eq x 46 trees = 235.5 trees
Flights            = 1.484 tonnesCO2eq x 46 trees = 68.3 trees
Honeymoon = 0.25 tonnesCO2eq x 46 trees = 11.5 trees
Total: 224+68.3+11.5 = 315.3 trees
Total Trees needed: 316
Here are a few places you could donate to plant trees:
Weddings are expensive, so you might not have the funds available to make donations immediately after your wedding. Since the traditional gift for 1 year of marriage is paper, you could forgo the usual gift giving and make your donation to plant trees to celebrate your first year of marriage instead!
Final Comments
I hope you've found our tips for throwing a vegan wedding helpful. Try and remember that the day is about the union you are making – everything else is just extras. Things will probably go wrong, but it really doesn't matter. Nothing is perfect, you just do what's right for you – and I hope you have the best day! If you want any other advice or insights into throwing a vegan wedding please get in touch – we're always happy to answer any questions!