Iceland is one of the most beautiful countries I've visited. Offering cinematic landscapes, spectacular waterfalls, gushing geysers, ice-capped volcanoes, thermal pools and the magical northern lights. Learn how to be vegan in Iceland with our food in Iceland vegan travel guide!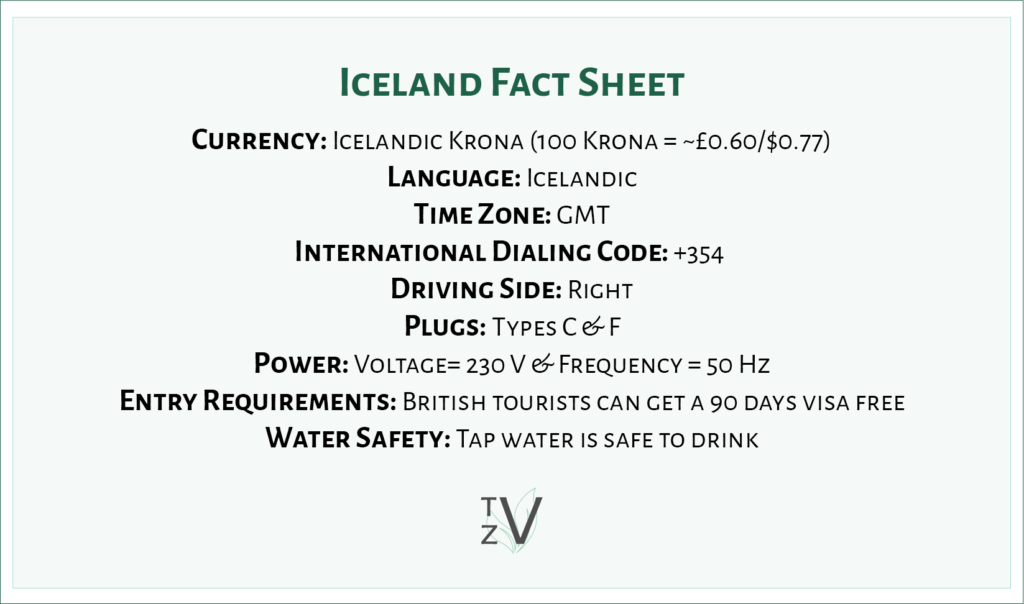 Iceland is a European island in the North Atlantic ocean. It's one of the northernmost countries in the world, and was first populated by Viking explorers over 1,000 years ago. Iceland is now home to only ~350,000 people – to put this in perspective, nearly 9 million people live in London.
Iceland owes its unique landscape to the fact it sits on two geologically active tectonic plates. In fact, you can head to Þingvellir National Park in the Golden Circle to see the only place in the world where the Eurasian and North American tectonic plates and the Mid-Atlantic Ridge are above ground (it's also the site of the world's oldest existing parliament). This helped create some stunning landscapes, but also because of this, volcanic activity and earthquakes are common.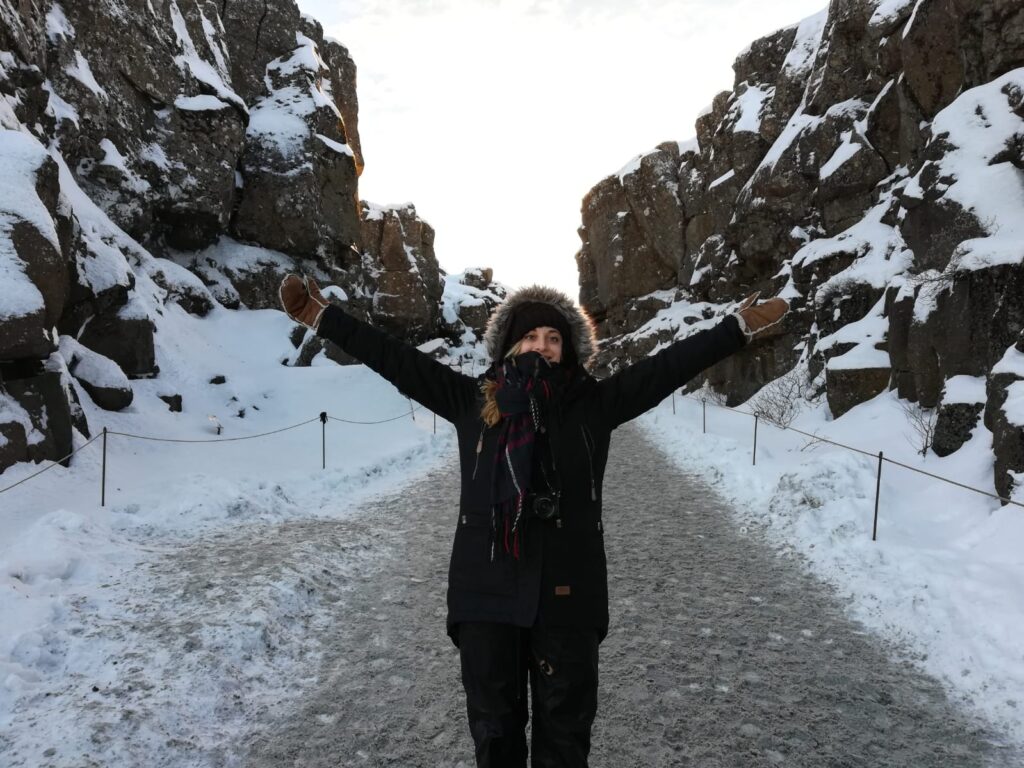 Iceland draws visitors from around the world. Lying between North America and Europe, it only takes ~3 hours from the UK and ~5 hours from the east coast of America to reach Iceland.
When is the best time to visit Iceland?
The best time to visit Iceland will depend on what you want to see – and what temperatures you can withstand!
Summer
Iceland's summer is between June and August. Temperatures can range from 7oC to 25oC, with an average temperature of around 12oC.
June is the best time to see the midnight sun, where the sun shines most of the day – up to 21 hours! You also have the best chances to see whales and puffins in summertime.
One downside to visiting Iceland in summer is that it's peak tourist season. So it's likely to be busier and more expensive.
Winter
Winter is between November and March. This is by far the coldest time to visit Iceland, with temperatures ranging between -10oC and 10oC. We visited in late January and it was freezing. Winter is the best time of year to see the northern lights and to do winter activities, but note, there is little daylight with some days having only 4 hours of light!
Spring and Autumn
Spring and Autumn is a happy medium between summer and winter. It's still cold, with temperatures around 5oC, but at least you'll get around 12 hours of daylight. This is a less popular time to visit so you might also find things to be a bit cheaper.
Our 7 Day Iceland Itinerary
Day 1
Arrive at Keflavik airport.
Hire a car (we recommend hiring a 4 wheel drive if driving in winter).
Drive to Reykjavik (~1 hour).
Visit the Viking Museum in Reykjavik.
Have dinner in the city and rest up for your adventure to start tomorrow.
Day 2
Have breakfast in Reykjavik.
Visit a supermarket to stock up on supplies.
Drive to Seljalandsfoss waterfall (~2 hours).
From Seljalandsfoss waterfall, walk to the hidden Gljufrabui Waterfall.
Drive to Skogafoss Waterfall (~25 minutes).
Continue the drive on the Ring Road to Vik where you'll spend the night.
Day 3
Get up early and head to Skaftafell National Park from Vik (~2 hours).
Do the 90 min round trip walk to Svartifoss waterfall.
Drive further on to Jokulsarlon Glacier Ice Lagoon (40 minutes).
After lunch, do the afternoon Vatnajökull Ice Cave Tour starting at Hofn to see the sunset.
Drive back to Vik – watch out for Northern Lights!
Day 4
Visit the Black Sand Beach Reynisfjara in Vik, see the famous Reynisdrangur rock formations.
Head to Dyrhólaey (~20 minutes) – a great place to see puffin's and other sea birds.
Visit the Solheimasandur Plane Wreck (~20 minutes).
Stay at Hotel Ranga in Hella (~50 minutes) where you can have a stargazing lesson at their on-site observatory.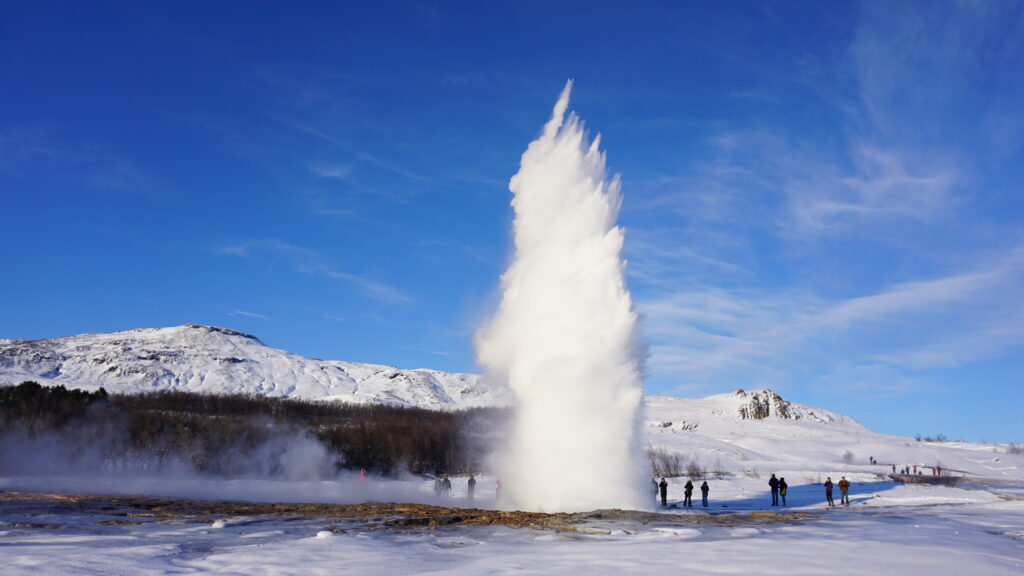 Day 5
From Hella, head to the Kerid Crater (45 minutes) and Gullfoss Waterfall.
Visit the Strokkur Geysers (10 minutes).
Other optional stops along the way: Secret Lagoon (Geothermal), Faxi Waterfall and Bruarfoss Waterfall.
Go to Fridheimar Farm for lunch – a famous greenhouse, known for their tomatoes. You can get all you can eat vegan friendly tomato soup and bread.
After lunch, head to the Þingvellir National Park (45 minutes), where the first Icelandic parliament was and also where the tectonic plates separate Europe and North America.
Drive back to Reykjavik (35 minutes).
Go on an evening Northern Lights Tour.
Spend the night in Reykjavík.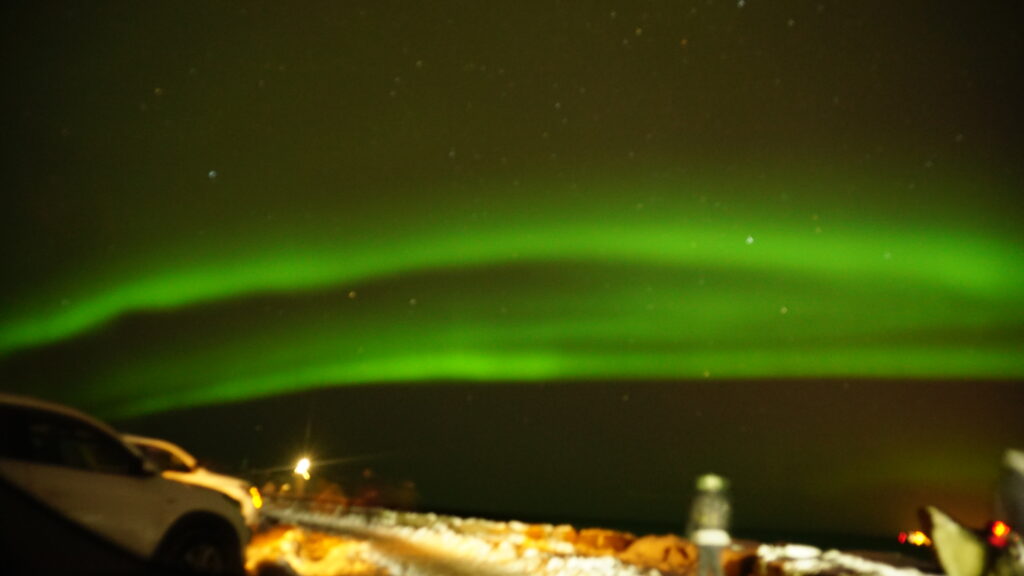 Day 6
Spend the morning exploring Reykjavik: Hallgrimskirkja Church, Sun Voyager Statue, Kolaportio flea market.
Visit Nautholsvik Geothermal Beach.
If you didn't see the northern lights the day before – go on another tour (usually offered for free).
Day 7
Explore Reykjanes peninsula.
Visit the Blue Lagoon for a soak in the geothermal spa waters.
Drop car off at Keflavik Airport for an evening flight home!
Cultural Considerations in Iceland
Be environmentally conscious
The people of Iceland are very environmentally conscious – so you should be too! Some tips to be eco conscious in Iceland:
Don't buy plastic water bottles. The tap water is some of the purest in the world, so use a reusable bottle to hydrate.
Speaking of plastic water bottles – go one step further and avoid single use plastic in general.
Don't litter. Similar to when trekking in Nepal, at natural sites, take your litter with you and leave no trace you've been there.
At natural sites, don't trample on the fauna and stick to designated routes and paths.
Shower before swimming
Swimming is a huge part of Icelandic culture. You should always shower before going into a swimming pool, hot spring or sauna. Locals find it very rude and disrespectful if you don't (why would they want to share a pool with someone who hasn't cleaned first? Would you?)
Tipping
Tipping restaurants is not common. Most restaurant bills will already have gratuity included in the price, so it's not necessary to tip on top of this. Unsurprisingly, if you do want to tip, it will be appreciated.
Mythical creatures
It's estimated that nearly 50% of Icelanders believe it's possible that elves, huldufolk (hidden people) and fairies exist. Elves are a fundamental part of Nordic mythology and tradition, dating back to Viking times. You may even see elf houses or dwellings around the country.
While the notion of the existence of mythical creatures may not be something you believe, many Icelanders do. Whether that's because they really believe or respect the folklore, it's important to be aware of this and be respectful. At the same time, don't assume every Icelander you meet does believe in them! We're all entitled to our own belief systems. If you want to learn more about elves, you can visit the Elf School in Reykjavik.
Vegan Friendly National Foods
Iceland's cuisine isn't known for its friendliness to vegans (or vegetarians for that matter). Some traditional Icelandic dishes include fermented shark (hakarl), boiled sheep head (svid), puffin, whale and skyr (a kind of yoghurt). Yeah, like I said, not vegan friendly.
There is a good reason for this. Iceland's land isn't good for growing crops. Ancient Icelanders had to rely on other food sources to survive (aka animal sources), giving rise to the traditional foods of today.
The only traditional vegan friendly Icelandic foods I came across were:
Rye Bread
Dark rye bread (rygbrað), or thunder bread. Traditionally cooked over 12 hours using the heat of geothermal springs (not sure how common this is nowadays!). Watch out though, sometimes it's made with buttermilk.
Flatkaka
Traditional Icelandic flatbread made with a mixture of whole wheat, rye and plain flour.
Snúður
Delicious fluffy cinnamon rolls covered in icing. Some may be topped in chocolate or caramel that might not be vegan friendly.
Despite the lack of traditional vegan friendly dishes in Iceland – we still had some amazing food in Iceland! Firstly, there are many Icelandic dishes that can be veganised, and there are plenty of vegan options in Iceland, but more on that later…
Useful Phrases
It's estimated that 98% of Iceland's population speak English. Even so, if you want to be equipped with some Icelandic, here are some phrases you might find useful: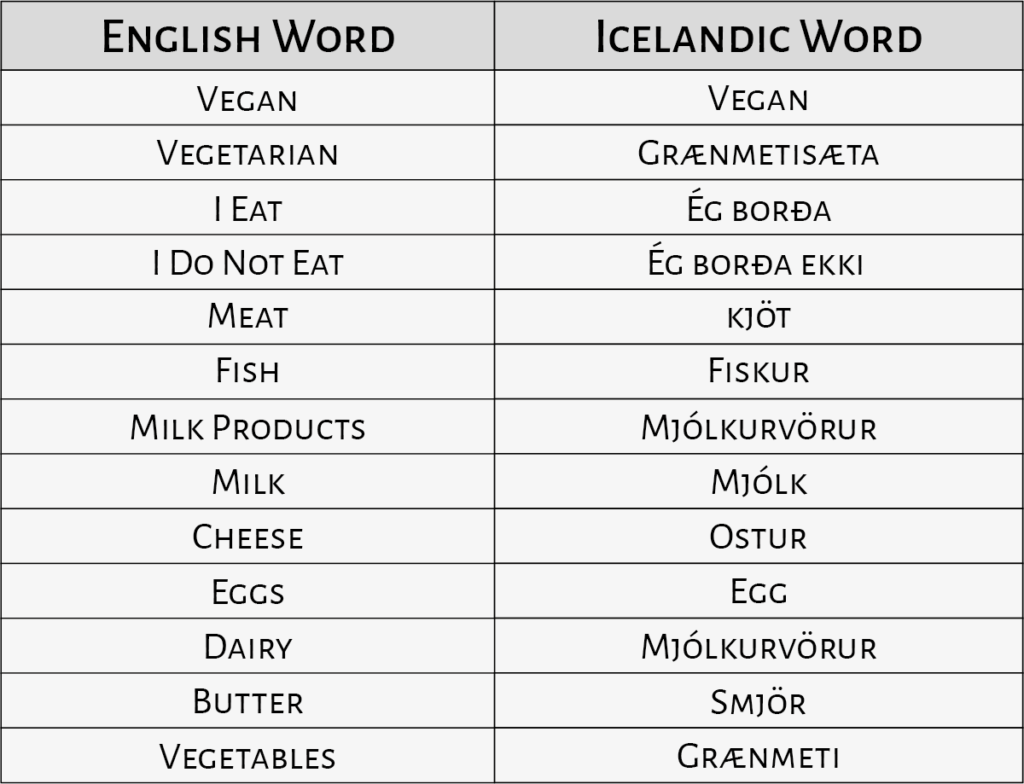 Favourite Restaurants
Okay, so Iceland is not known to be very vegan friendly. But as I said, we didn't go hungry! There are a handful of vegan restaurants in the capital Reykjavik, and beyond there we were able to veganify dishes during our travels.

Shopping Tips
Even if you don't have access to a kitchen while in Iceland, we'd still recommend buying some groceries (for quick breakfasts, picnics, snacks etc.). This way you'll have some food on hand if hunger hits in the middle of nowhere, and you'll save some pennies.
The main supermarkets in Iceland are Bonus, Netto and Kronnen. In Reykjavik we visited a Bonus supermarket and stocked up on essentials before hitting the road out of the capital! There were lots of vegan friendly options like mock meats, plant milks, cereals and snacks.
Struggles with food in Iceland
Expense
One big struggle with food in Iceland was expense. For example, a pizza can cost around £20! There are reasons for this. Iceland's land isn't ideal for agriculture, so many foods have to be imported, or veggies are grown in special greenhouses that drive up the cost. Also, local Icelanders tend to eat out as a treat. This low demand drives up the cost of restaurant meals.
Vegan Options
This is probably obvious, but the lack of vegan food, especially in remote areas can be a challenge.
The best thing to do is stay positive, even if the only options you can have on the menu are fries and salad. Sometimes one of the reasons you visit a place is to experience the cuisine. I tried to remember that for me, visiting Iceland wasn't about that. The struggles with vegan food was worth it to experience everything else Iceland had to offer.
Oh, and always keep snacks on hand!
Final Comments
Overall, I loved our visit to Iceland. The breathtaking landscapes and the magic of the northern lights far made up for any struggles we had with vegan food. I can't wait to return to experience Iceland in the summertime! I'm sure that as time goes on Iceland will become more and more vegan friendly, and I hope this guide has shown you that you can be vegan when visiting Iceland.