Are you thinking of travelling to Nepal? Wondering what it's like to go to this beautiful country as a vegan? It would be understandable if you've got a few concerns about how to be vegan in Nepal. After all, there's the language barrier, unreadable labels and hidden ingredients (I was definitely surprised to see 'etc' listed on an ingredients list for some crisps!). After living and travelling around Nepal for 6 weeks, we've put together this vegan survival guide for travelling in Nepal as a vegan.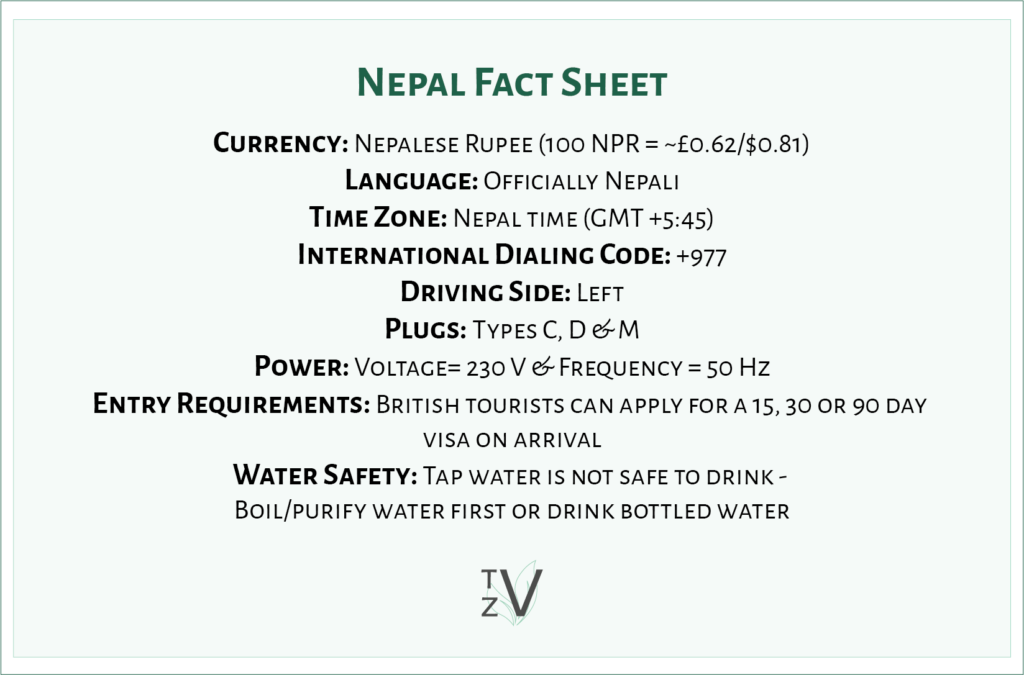 Nepal
Nepal is a country in southeast Asia, landlocked by India to the east, south and west, and China (Tibet) to the north. Despite this, and the fact it is made up of 125 different ethnic groups, Nepal maintains its own distinct culture. Nepali is the official language, spoken by around 80% of the population and it's estimated that there's ~123 different languages spoken in Nepal!
Nepal sits in the Himalayas and is home to eight out of the ten world's tallest mountains, including the highest in the world – the mammoth that's Mount Everest. Because of this, Nepal is one of the top destinations in the world for trekking.
The predominant religion is Hinduism (around 80% of the population). Even though Nepal is the birthplace of Buddha, only around 9% of the nation is Buddhist.
The best time to travel to Nepal is between late September and November. The weather is dry and it's not too cold, making it perfect conditions for trekking. From December to February Nepal has its winter, during this time the nights are cold and and it may be too dangerous and cold for trekking (it can easily reach minus temperatures at night in the mountains). Springtime arrives between March and May, and this is also a great time to visit the country. Temperatures start to rise, and the weather is mostly dry until the monsoon season arrives, which runs from June to August.
Cultural Considerations: Nepali do's and don'ts
Before visiting a country with a different culture from our own, we like to check up on local customs. Here's a summary of the main do's and don'ts to consider when visiting Nepal:
Greetings
When greeting people, put your hands in a prayer position and say 'namaste'.
If you really want to blend in with the locals, instead of nodding your head to say yes, tilt your head slightly to one side then back the other way. To say no, don't shake your head. Instead, hold your hand up, palm forwards and shake your wrist.
Temples
As a general rule, it's respectful to dress modestly in Nepal at all times. This is especially true when visiting religious sites. Make sure your shoulders and knees are covered, and always remove your shoes, as the feet are seen as unclean (similar to Thai culture).
Photos
Always ask someone's permission before taking a photo of them, you'll find they'll extend the courtesy to you too. Also don't take pictures inside temples either.
Trekking
Always obtain the appropriate permits for trekking and only go where your permit allows. You need to keep your permits with you as they will be inspected at various checkpoints. Unsurprisingly in the remote mountains there aren't many bins, be prepared to carry your rubbish back down with you – follow the rule 'Leave No Trace'.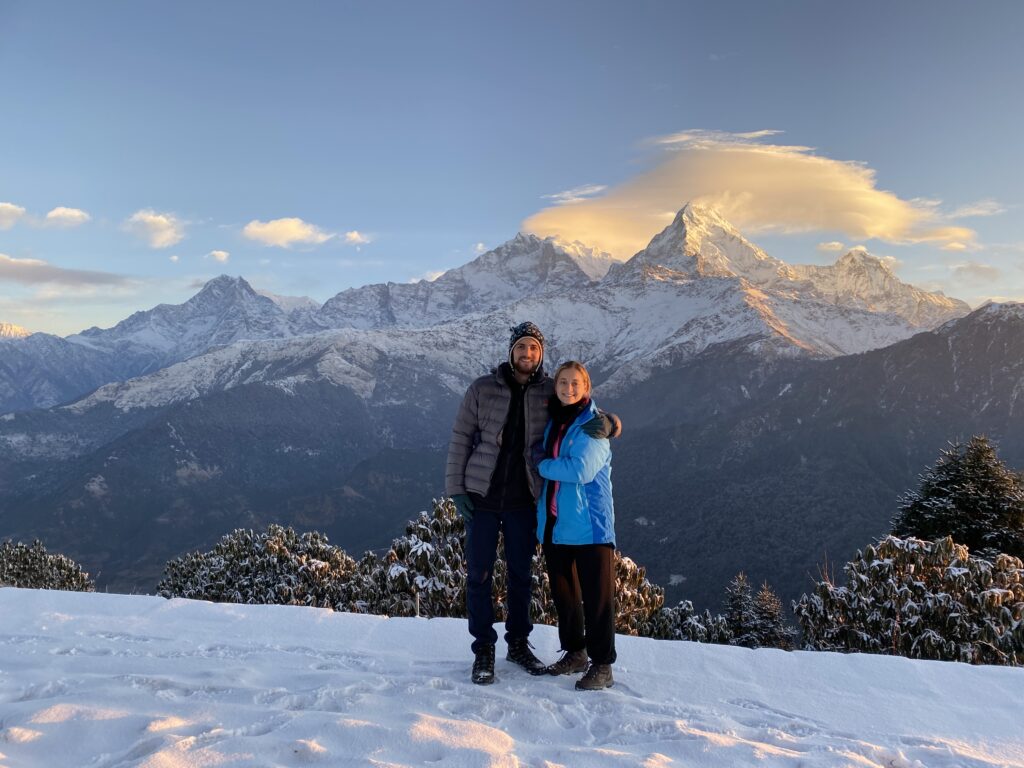 Tipping
Tipping is pretty commonplace in Nepal. From my experience travelling in Nepal, here's a general guide to tipping:
In restaurants, 10% is a standard tip and often automatically added to bills.
For taxi drivers, rounding up the fare to the nearest whole amount is the norm.
When trekking, if you're happy with the service, it's customary to tip your guide and porter. For guides, $5 a day, and for porters, $3 a day is standard.
Tipping housekeeping in hotels isn't expected, but feel free to give a small tip to anyone who's helped carry your bags.
Other
Avoid public displays of affection. You're more likely to see two male friends holding hands than romantic couples.
The left hand is considered to be unclean, especially amongst Hindus. Only offer and receive with the right hand.
Vegan Friendly National foods
Dal Bhat
Dal Bhat is considered Nepal's national dish. It is a simple dish of Dal (lentil soup) and rice (bhat). It's sometimes served with spicy pickles, a vegetable curry and a papad (poppadom) and this dish is completely vegan. It can be found almost anywhere and as an extra bonus, it's likely one of the cheapest items on the menu.
In the more touristy areas of Kathmandu and Pokhara, you'll see the phrase 'Dal Bhat power for 24 hour' printed on t-shirts – and it's not wrong! Many nepali people eat this (and only this) twice a day. It kept us going during our trek and warm during those cold nights in the mountains!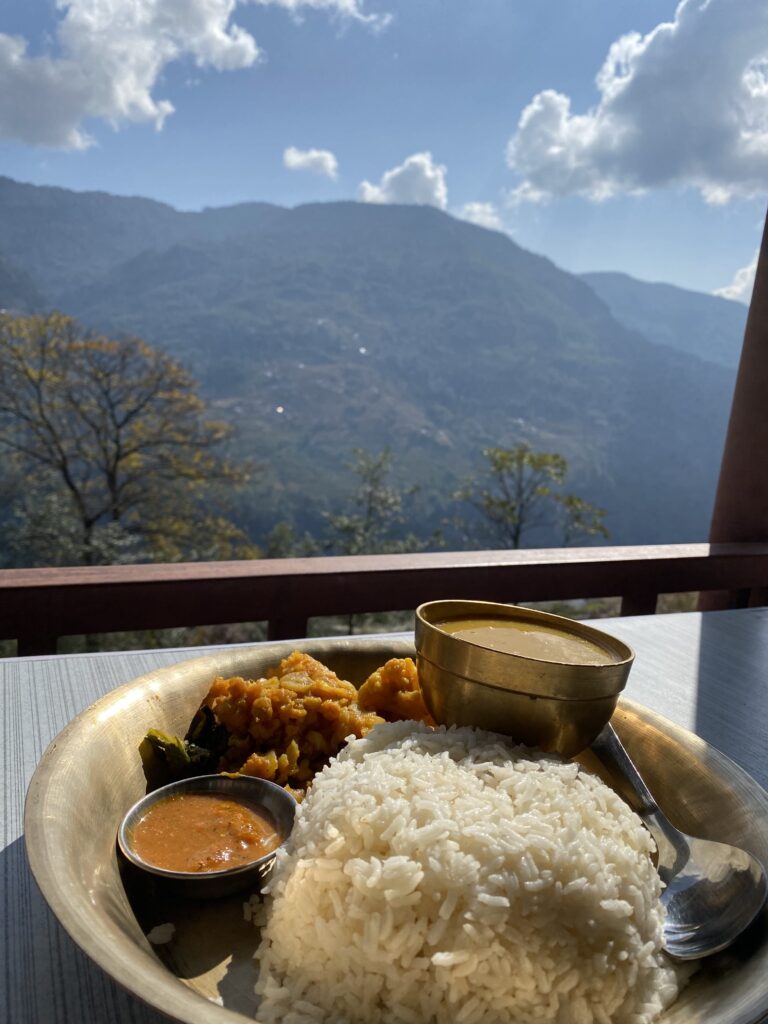 Expect a mountain of fluffy steamed rice, with a thin lentil soup and occasionally a bit of vegetable curry on the side. The Dal is sometimes served cold, but when you pour it over the steaming rice it ends up nice and warm.
Momos
Like Dal Bhat, you can find momos everywhere in Nepal. They are little dumplings similar to Japanese gyozas that can be served steamed, pan fried (Kothey) or in soup (Jhol), and always come with a spicy tomato sauce. Usually two varieties are on offer Buff (buffalo) or veg; some places will have chicken or cheese versions too. Luckily for us, veg momos are completely vegan! The dough is made from flour and water, and the filling is veggies like cabbage, and carrot, seasoned with momo masala spices. In Kathmandu we also found tofu, seitan and mushroom momos, and even had a go at making our own in a cooking class!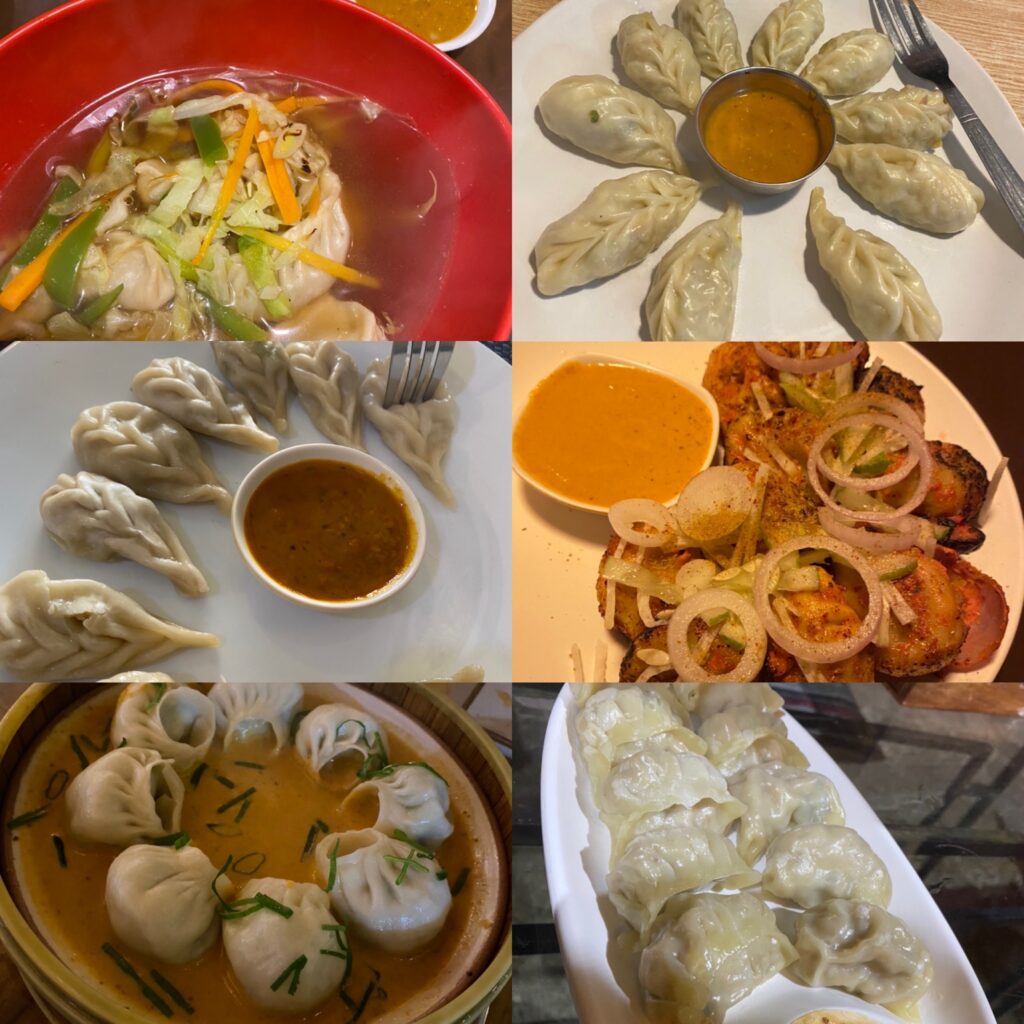 Thukpa
Thukpa is simple vegetable noodle soup, often eaten for breakfast. Everywhere will make it slightly differently, but likely will have noodles, carrots, cabbage and onion. We never found it to be spicy, and is best finished with a squirt of lime juice.
Tibetan/Gurung bread
Whatever you decide to call it, Tibetan or Gurung bread is delicious. A flat bread that's fried – need I say more? You can find this for breakfast served with jam.
Useful Phrases
We were very surprised at how little Nepali we needed during our time travelling in Nepal. Almost everyone we interacted with spoke a little English, and understood when we said we were vegetarian and didn't eat egg, dairy and milk. Here are a few phrases you may find useful when visiting Nepal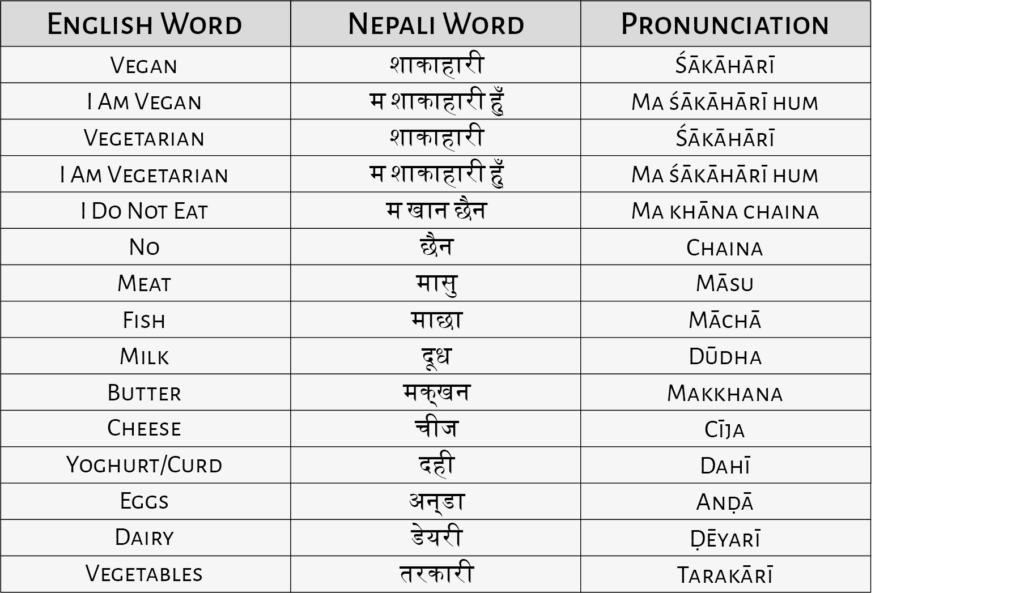 Our Favourite Restaurants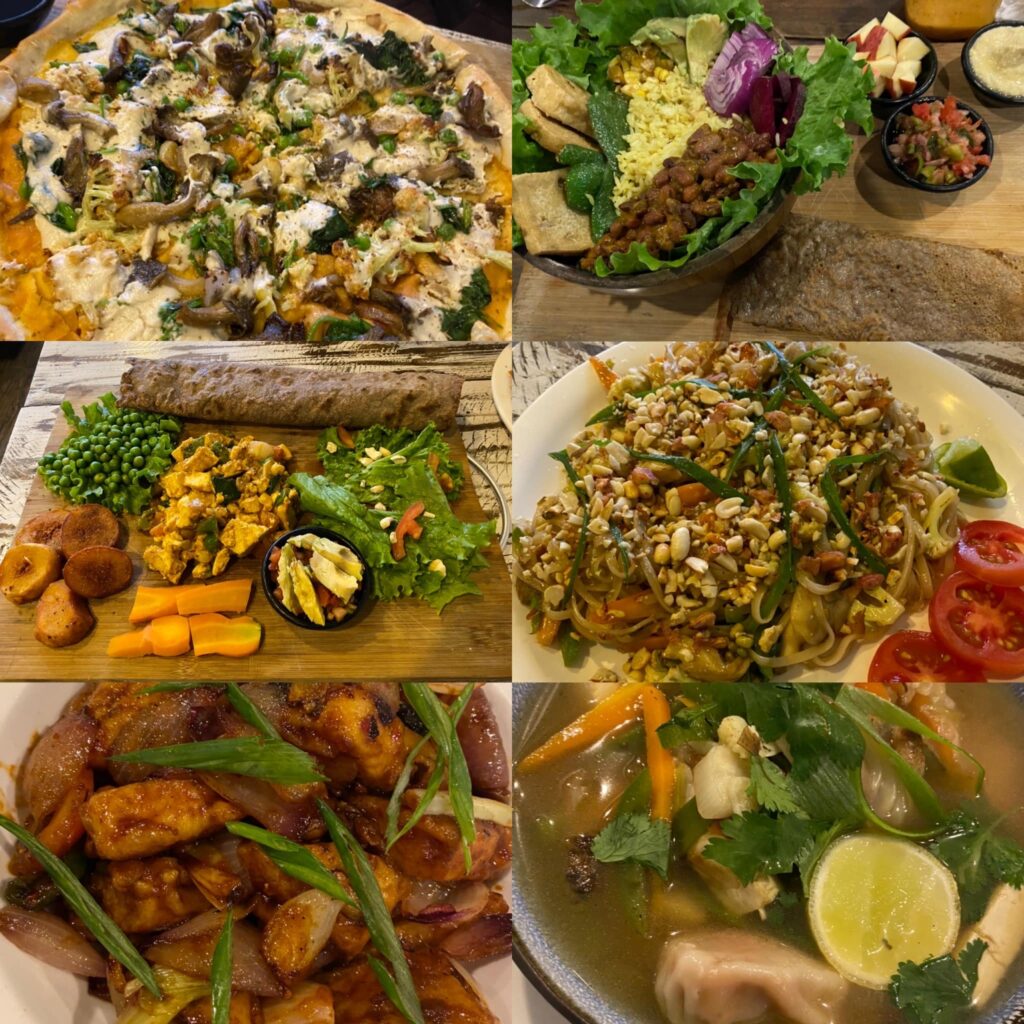 Nepal is one of the cheapest places we've visited for eating out, and we were surprised at how easy it was to eat plant-based. On average we'd spend around £5, ordering at least 3 dishes. Below is a list of restaurants we visited during our time travelling in Nepal that were vegan, vegetarian or had great vegan options. Although you really don't need to search that hard for vegan food! Almost every single menu will have veg momos, vegetable noodles, vegetable fried rice and vegetable curry – you can just double check if there's any dairy or eggs added.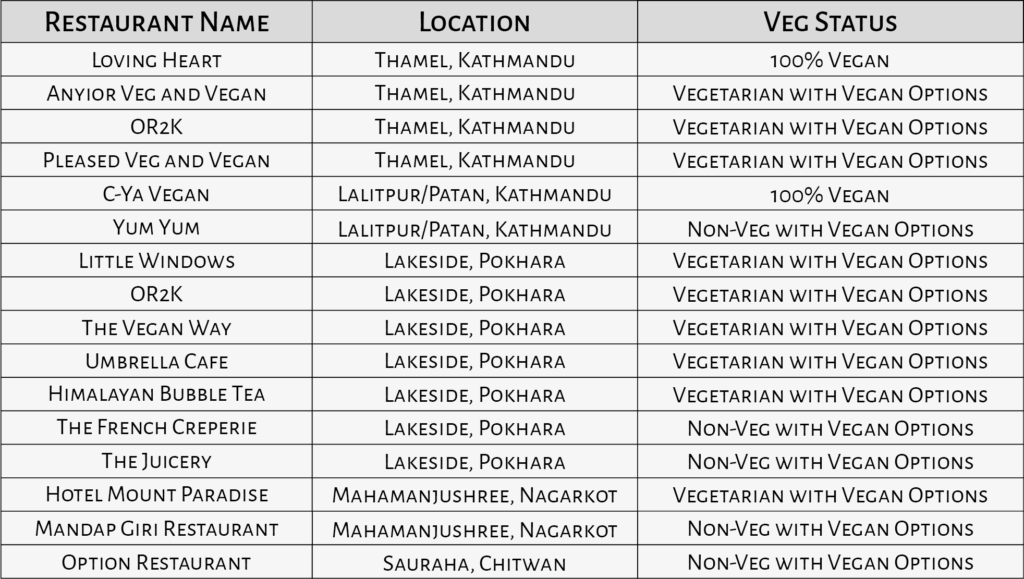 Our top tips for eating out in Nepal:
When ordering tea, always ask for it black. Milk is normally added straight into the teapot (we learned this the hard way).
If you order a Thali set, it sometimes comes with yoghurt/curd, so remember to ask for it without.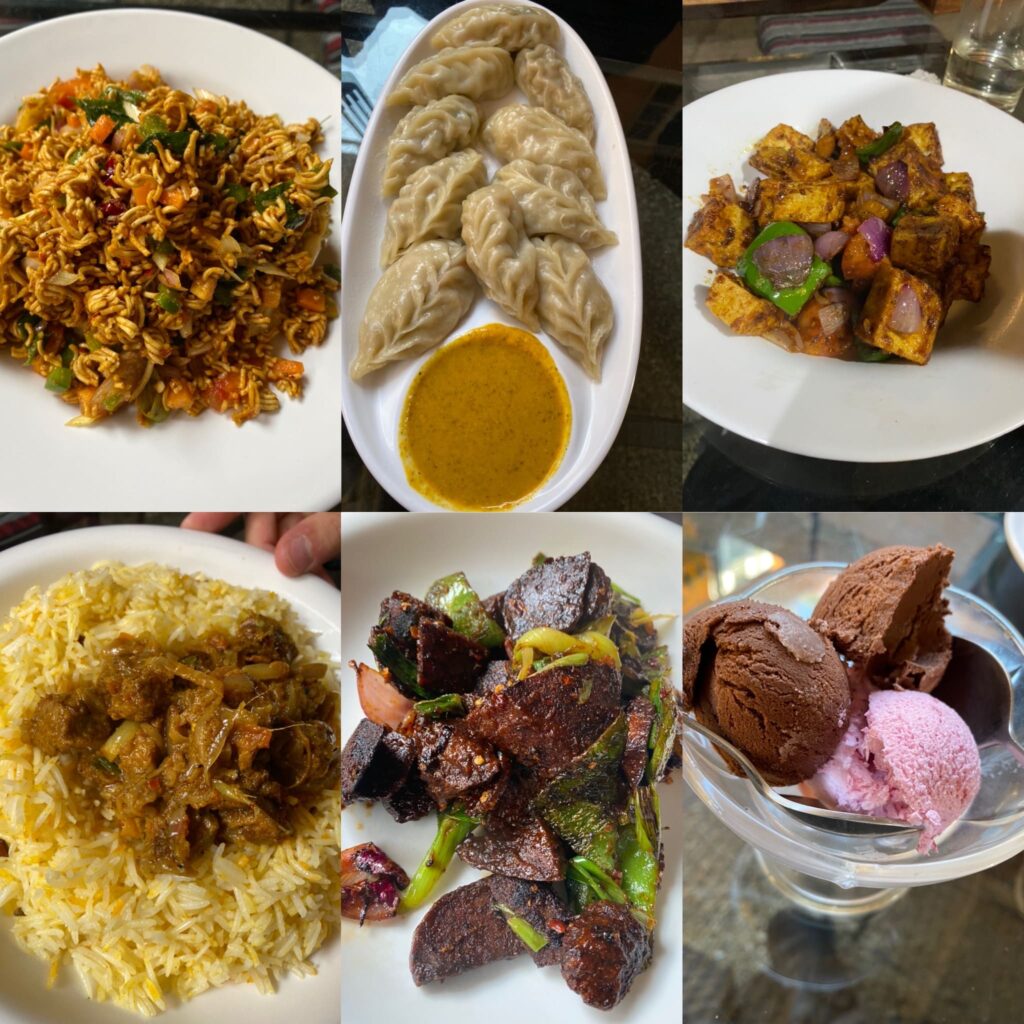 Favourite Vegan Snacks
If you're anything like me, you like to have a snack on hand for when hunger pangs hit. There's lots of different snack mixes available that have nuts, rice (bhuja) and lentils – but watch out, they can be really spicy!
A very popular snack in Nepal is dry instant noodles. We'd never seen noodles eaten like this before but decided to give it a go, especially since over four million packets of instant noodles are eaten a day in Nepal. The most popular brand is Wai Wai (which are pre-cooked with flavour added) and you can pick up a packet for around 20 rupees/12p. Well, to say we were hooked is an understatement! It is SO GOOD! Crunchy and satisfying, you can add as much or as little as the flavour packet as you like. Just check ingredients labels for meat, fish or milk.
If you go into a supermarket in Nepal you'll see there are lots of sweet and savoury biscuits. Unfortunately a lot of them contain milk (even plain crackers), so you need to check the labels. A lot of fresh snacks like pastries are cooked in ghee, so remember to check those labels too!
I was surprised to see that desserts/sweet foods were difficult to come by. Apart from biscuits, small sections of sweets, and even smaller sections of chocolate (that almost all contained milk) there were few options for a sugar fix. Don't get me wrong, you can find things – on one particularly desperate occasion I bought a 70% lindt dark chocolate bar for 450 rupees. At around £2.80, that's expensive for Nepal (and more than I'd spend in the UK), but totally worth it.
Some of our favourite vegan snacks found in Nepal:
Dried chickpeas
Dried veggie noodles (Wai Wai)
Salted banana chips
Nuts (salted or spiced)
Krack Jack and Monaco crackers
Kurkure chilli chatka or masala munch flavour
Yummy sandwich biscuits (pineapple, strawberry or orange flavour)
Shopping Tips when Travelling in Nepal
If you are staying in Nepal for a bit longer and have access to a kitchen, you can definitely find all the vegan groceries you'll need to make some great vegan meals!
You can find tofu in some larger supermarkets (sometimes labelled 'tofu paneer'). We found it out with the vegetables (not in the fridge). It's super cheap, we'd often get a block for around 20p. While we found tofu easily in Kathmandu, we struggled in Pokhara, Chitwan and Nagarkot.
You can also find dehydrated soy chunks in large and small supermarkets. You just need to boil the chunks to rehydrate them, then add them to a curry or soup!
Chia seeds and oats were also widely available, which was perfect for breakfasts.
I'm sure you can imagine that being in the land of Dal Bhat, there were so many different types of lentils and rice to choose from for very low prices.
Fresh fruit and vegetables are incredibly easy to find, although what you get will depend on what's in season. Some supermarkets have a small selection, but fruit and vegetables are mostly sold in smaller local shops – which will also be cheaper.
Struggles with Food in Nepal
Despite our overall positive experience with being vegan while travelling in Nepal – not everything was easy sailing.
Non-Dairy Milk
Unfortunately the main soy milk brand 'Lactasoy' can contain milk powder. We were gutted that pretty much the only soy milk available wasn't vegan (we found this out the hard way). I did some digging and found that the 'vegetarian' one (in the red carton) is dairy-free, but you need to confirm this by checking labels and we rarely found it. Nut milks are also usually a blend of nut milk and dairy milk too. If you're lucky you can find 'pure' soy milk in some Big C supermarkets in small glass bottles.
MSG
One of the biggest issues we had with eating out was the addition of MSG to food. Oli is particularly sensitive to MSG (sometimes called 'flavour powder'), and it's something to be aware of if you are too!
Expiration dates
We also noticed that a lot of packaged food on sale had expired. If things were a few months expired we generally didn't mind, and we made a judgement based on what the item was!
Trekking
If you go trekking it's good to be aware that the higher up the mountains you go, there's less fruit and vegetables, and the food will be more expensive. We were surprised that in Kathmandu we could get momos for 100 rupees, but in the mountains they were sometimes 500 rupees! You will however find our saviour, dal bhat on every menu.
Final Comments
Overall, we didn't struggle to be vegan when travelling in Nepal. Even though veganism may not be widespread, there are so many Nepalese dishes that don't have any animal products/are accidentally vegan. We vegans don't have to miss out on Nepal's culinary delights! We hope you found this vegan travel guide to Nepal useful, perhaps you'll consider exploring Nepal for your next adventure!