Are you thinking of travelling to Cambodia? If you're wondering what it's like to go to this country as a vegan, you've come to the right place! After exploring this country for 4 weeks, we've put together this vegan travel guide to Cambodia.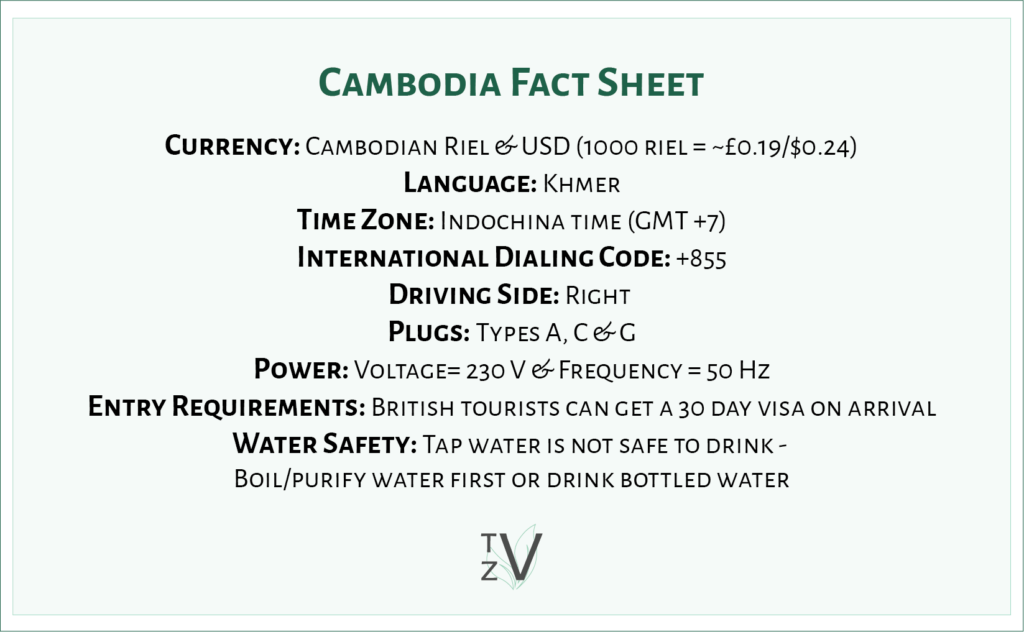 Cambodia sits in between Thailand, Laos and Vietnam. Officially the Kingdom of Cambodia, this southeast asian country boasts a rich history and culture.
Angkor Wat
One of the top things to do in Cambodia is to visit Angkor Wat, a UNESCO world heritage site.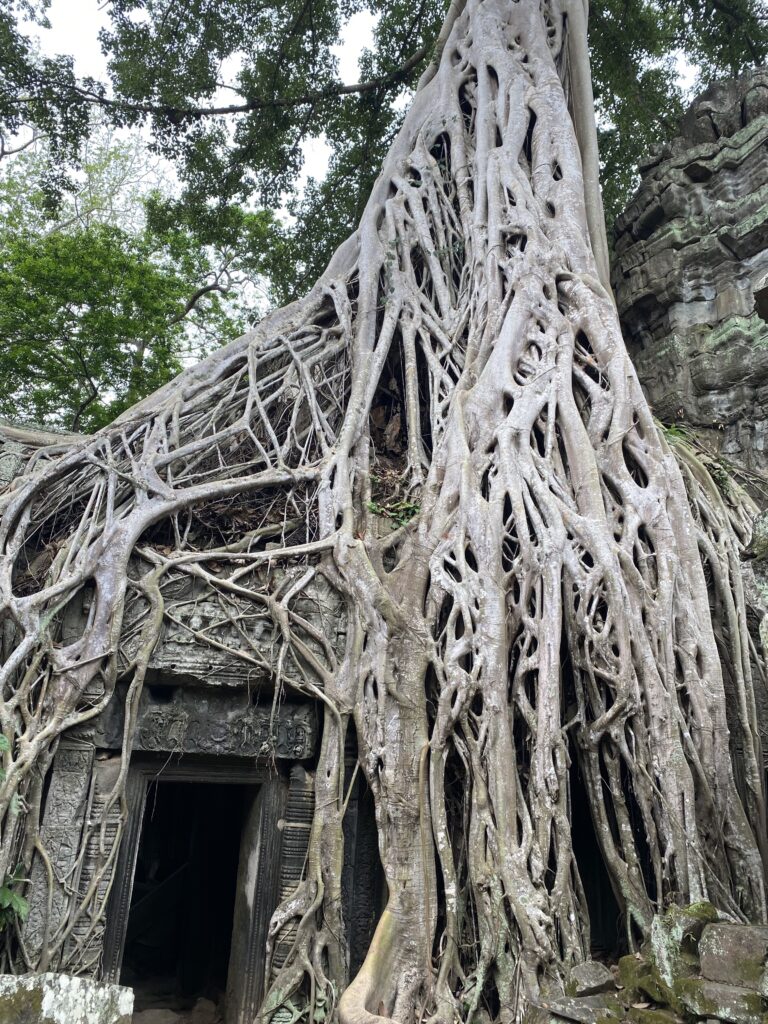 With 72 major temples spanning over 400 km2, it's the largest religious monument in the world, and dubbed one of the most important archaeological sites in southeast asia. At one time, Angkor was the centre of the Khmer empire. It was originally built as a Hindu temple, but it's now dedicated to Buddhism.
Cambodian Genocide
We wanted to learn about Cambodia's dark past, to help us understand and appreciate this country and its people further. In the capital Phnom Penh, we visited the S-21 Prison and the Killing Fields, which were full of the harrowing details of the Khmer Rouge regime.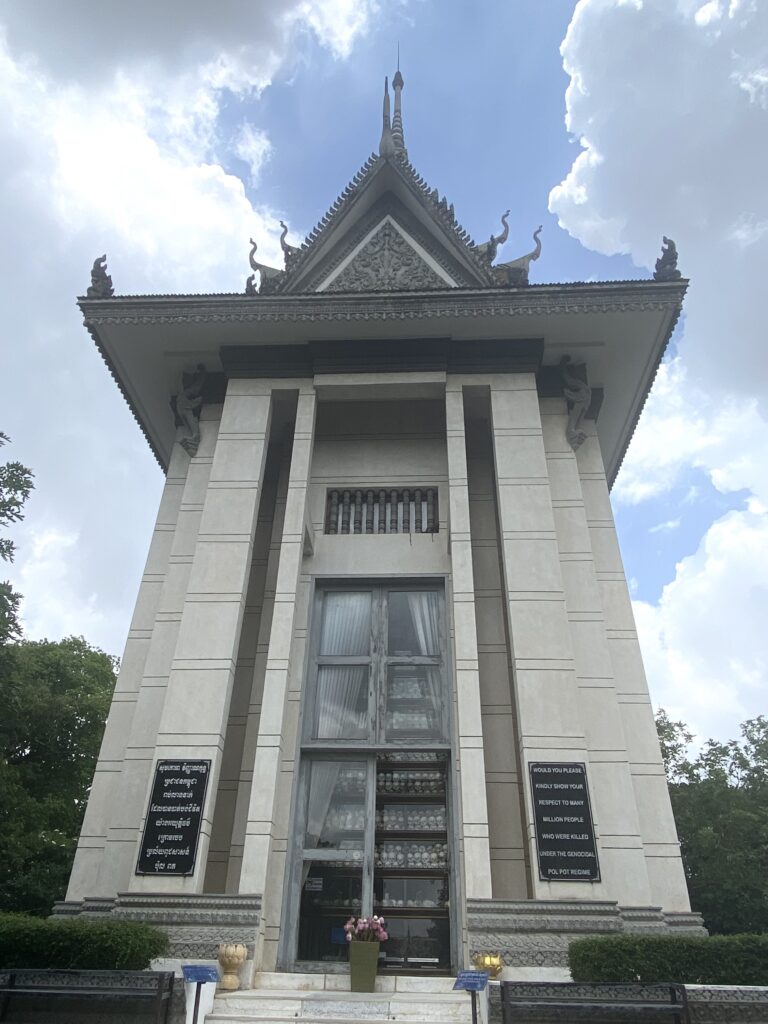 The genocide by the Khmer Rouge led by the dictator Pol Pot, saw nearly a ¼ of the population of Cambodia killed. During this time, just wearing glasses could get you murdered, as you'd be seen as an 'intellectual', and so an enemy of the state. Perhaps more shockingly, this happened only just over 40 years ago. The country is still recovering from this time, but despite this, the people of Cambodia are kind and welcoming.
There are many places in Cambodia untouched by tourists. So if you want to get off the beaten path, explore forests and lakes, Cambodia is a great destination.
Cultural Considerations: do's and don'ts in Cambodia
The body
Similar to Thailand, the head is considered the most sacred part of the body, while the feet are the lowest. Avoid pointing to things (and people) with your feet and touching people's heads.
The politest way to hand something to someone is with both hands, or to pass things over with your right hand with your left hand on your right elbow. As a general rule, the right hand is for clean tasks (touching others, eating), and the left hand is for dirtier tasks.
Dress
The Khmer people are quite reserved, so you may cause offence by showing too much skin. Keep this in mind if not on the beach or by the pool, and especially dress appropriately (knees and shoulders covered) when visiting temples or important sites. You'll notice locals, especially women, will be very covered up – despite the heat!
Greetings
To say hello or goodbye, you can put your hands in the prayer position and do a small bow, like in Thailand. The higher up you hold your hands will convey more respect – so if you were greeting a monk you'd put your hands up to your nose.
Monks
Monks are highly respected in Cambodia. It's common for most men to become a monk at some point in their lives. Monks are not allowed to touch women, or even accept anything handed to them from a woman. Try not to take offence to this, if for whatever reason you need to give something to a monk, offer it in a cloth. If you want to take a photograph of a monk, ask permission first.
Tipping
Tipping isn't expected in Cambodia but appreciated! You might see a small service charge added to bills at high-end restaurants, but this isn't common.
If you've hired a tour guide or been on a tour, and are happy with the service, you can discreetly give the person a small tip in riel.
Vegan Friendly National Foods
Cambodian cuisine uses local herbs and spices like lemongrass, ginger, mint, black pepper and limes to create fragrant and flavourful dishes. While veganism isn't widespread, there are definitely delicious vegan local foods you can try.
Amok
Amok is the national dish of Cambodia. While traditionally made with fish, vegan versions can be easily found throughout Cambodia with vegetables or tofu.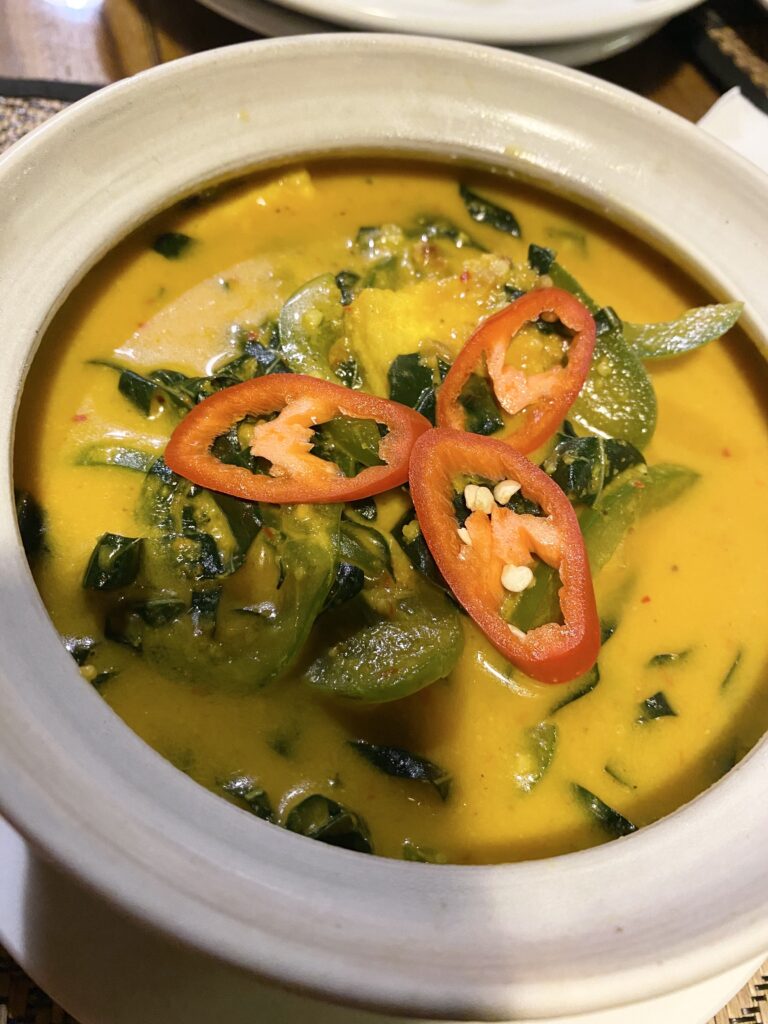 Nike Chow
Fresh spring rolls served with peanut sauce – similar to Vietnamese soft spring rolls.
Nom ga chai
Nom Ga Chai aka Chive Cakes. Light steamed buns made from rice flour and filled with chives, leafy greens and coconut – and fried to perfection. Nom ga chai is a popular street food but sometimes can be found in restaurants.
Nom Korng
Ring doughnuts made from rice flour and covered in palm sugar and sesame seeds. Delicious.
Akor cake
Little spongy cakes made from rice flour, sugar, yeast and palm fruit. Served wrapped in a banana leaf to eat on the go!
Nom kom
Sticky rice or rice dough filled with a sweet bean paste, wrapped and cooked in a banana leaf parcel.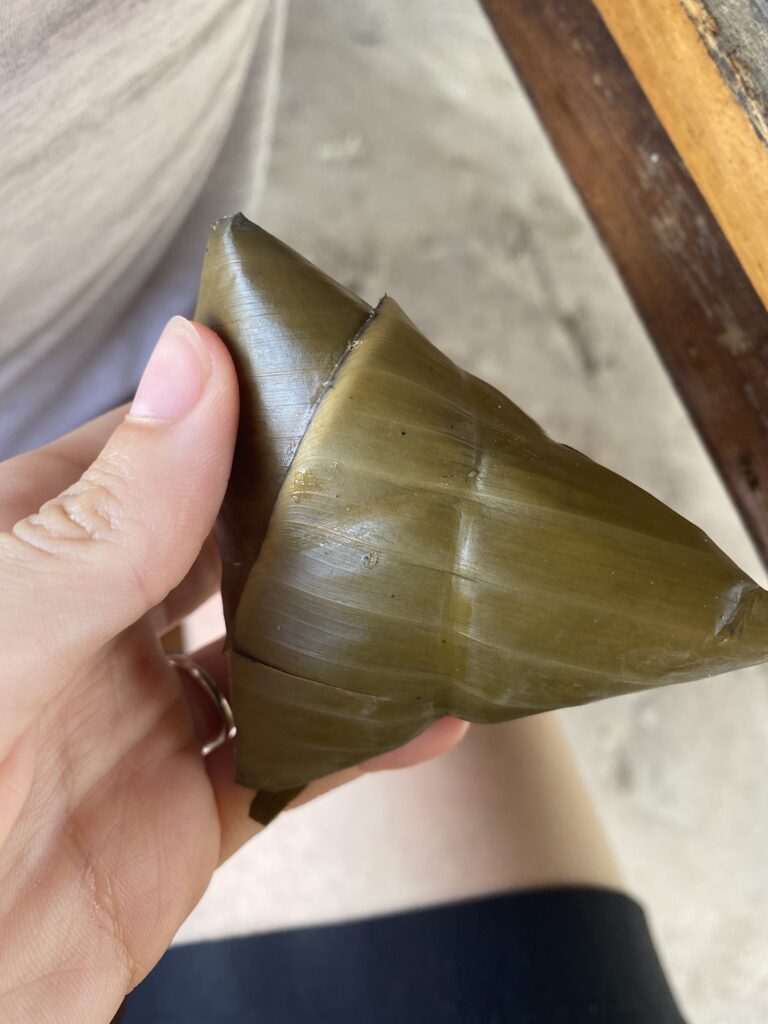 Useful Phrases
There aren't actually clearly defined words in Khmer for 'vegan' or 'vegetarian', but luckily many menus will have English translations, and locals understand the english words vegetarian and vegan. Here's some useful Khmer phrases if you're vegan in Cambodia: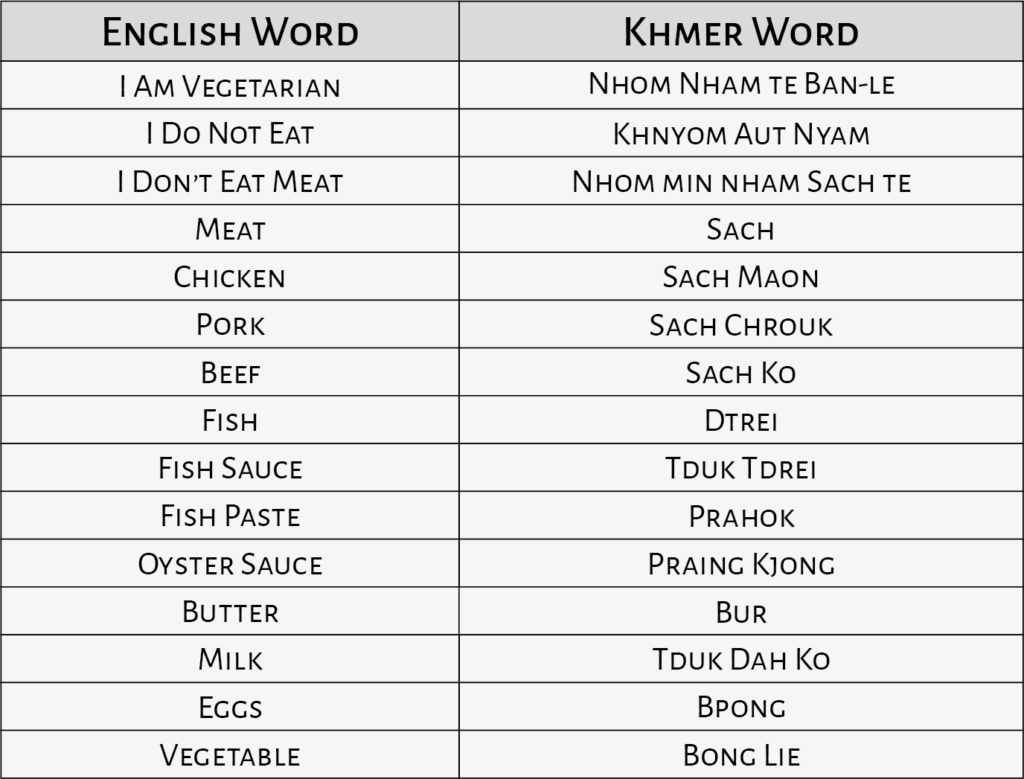 Favourite Restaurants
Here are some of the restaurants we visited in Cambodia. We were pleased to find 100% vegan eateries as well as many non-veg places that had lots of vegan options.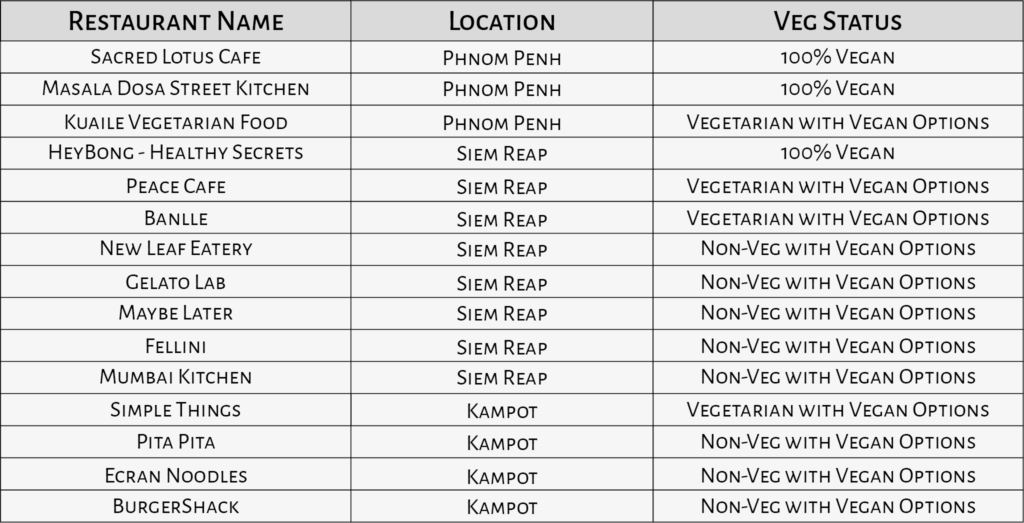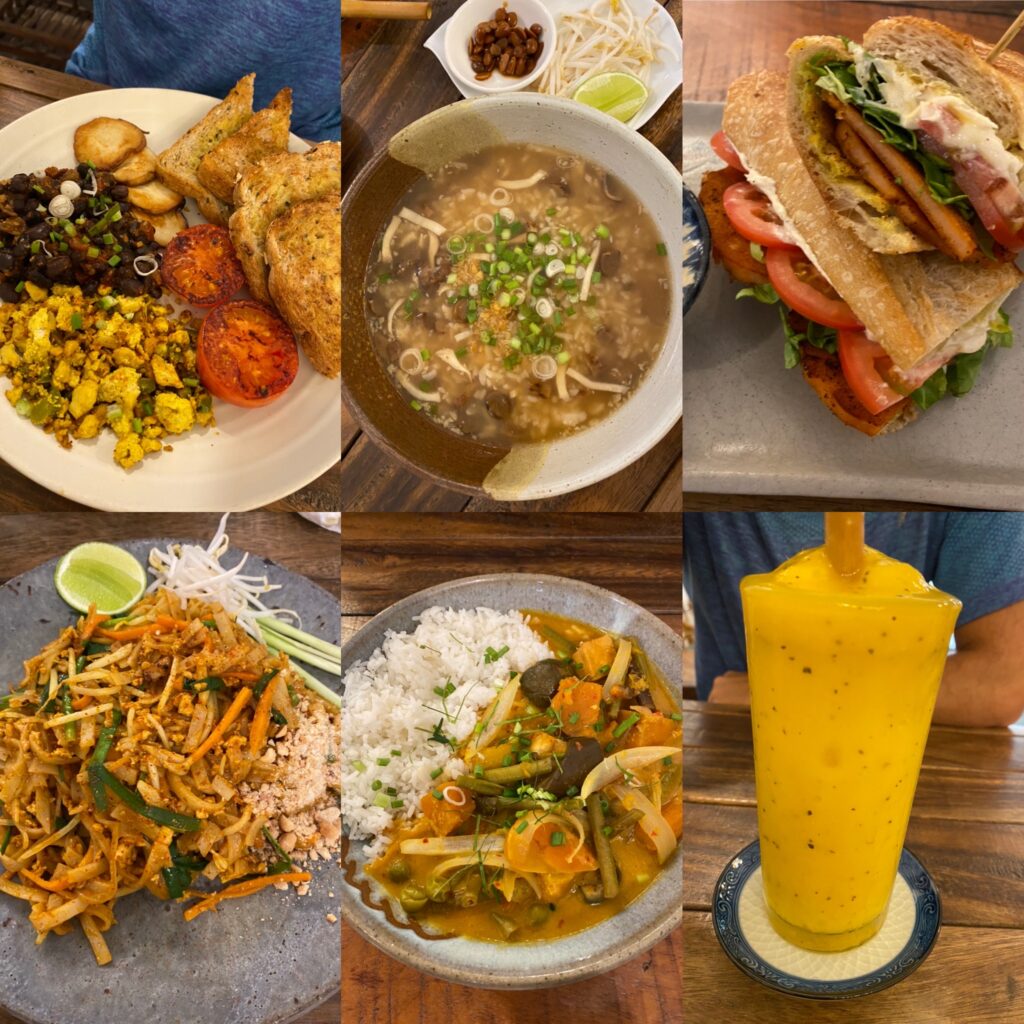 Shopping Tips
Supermarkets have everything you would need to make balanced and nutritious vegan meals! We easily found tofu, pulses, veggies and grains.
In Siem Reap, we went to Angkor Market. This store imports the majority of their goods, including food from the UK Co-op! It was really strange to see Co-op brand pasta and cereals, but also nice to see vegan brands I was used to like Swedish Glace and Linda McCartney. But at hugely inflated prices, we resisted temptation to save some pennies and stuck to more local products.
Where we shopped there wasn't a wide range of plant milks, but Lactasoy soy milk was available in larger supermarkets (see my words of warning about Lactasoy in my Nepal travel guide).
Struggles in Cambodia
Expenses
Before visiting Cambodia, I had read on many travel blogs saying that it's 'one of the cheapest places in Southeast Asia'. In our experience, this wasn't the case.
We found groceries to be expensive. Understandably, anything imported was more pricier. But we found fruit and veggies to be expensive in comparison to neighbouring countries.
There's a few reasons for this, during Covid lockdowns there was stockpiling and supply shortages from production suspensions, which has driven prices of goods up.
Inflation rates are soaring in Cambodia, and in fact, in 2020 Phnom Phen was named the 6th most expensive city in Southeast Asia.
This being said, eating out was very reasonable, with main dishes around $3-5 each in a sit down restaurant.
Another expense to factor in, is the cost of attractions. Angkor Wat has been the most expensive entrance ticket for ruins/temples we've come across so far on our travels. The cheapest price is $37 per person for 1 day, and you can pay more for 3 and 7 day passess. Not very budget friendly! You'll also need to hire transport for the day (bicycle, motorbike or tuk tuk), and many people also opt for hiring a guide.
Transport
There isn't a well developed public transport system in Cambodia yet, and trains don't run often.
We faced this problem when landing in Sihanoukville. With no trains (they only run Fri-Sun) or buses to take us to Kampot, we had to book a taxi. To make things worse, it was a public holiday so many taxi companies were closed. The cheapest price we found (and ended up paying) was $75 – to put this in perspective, if we could've got the bus we'd have paid ~$4 each. I hope in the near future local buses are running again!
But one great thing about Cambodia is the abundance of tuk tuks that you can book via Grab to lock in a price. They're super cheap and a great way to get around for shorter journeys.
Currency
Both Cambodian riels and US dollars are legal currency in Cambodia. It took me such a long time to get my head around this.
For larger purchases you'll need to pay in dollars, and probably get reils in change. Most ATMs will only give dollars. Don't be surprised though if local restaurants, taxi/tuk tuk drivers/food delivery drivers don't have change available.
Also be aware – you can only use new notes, even though old US dollars are legal currency, no one in Cambodia will accept an old looking note.
Final Comments
Overall, we didn't struggle to be vegan when travelling in Cambodia. With a large Buddhist community, vegetarian and vegan options were plentiful. We vegans don't have to miss out on Cambodia's culinary delights! We hope you found this vegan travel guide to Cambodia useful, perhaps you'll consider exploring Cambodia for your next adventure…