If you're thinking of visiting Thailand, and wondering if it's possible to be vegan in this stunning country, you've come to the right place! After spending 2 months living and travelling in Thailand, we've been able to put together this vegan guide to help out our fellow vegan travellers!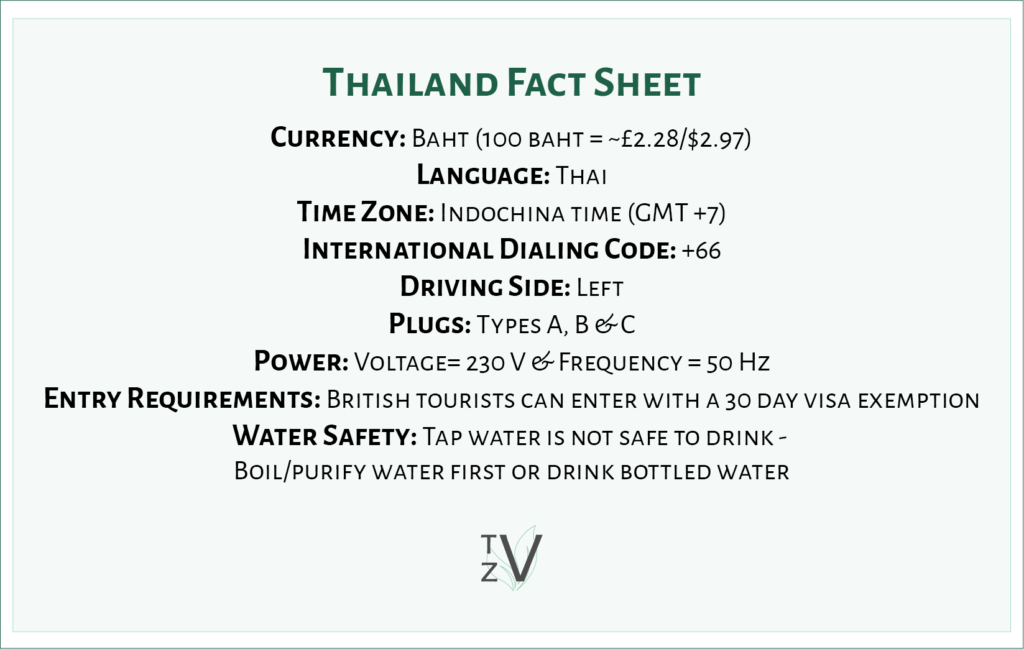 Thailand
Thailand is a country in Southeast Asia bordered by Cambodia, Laos, Myanmar and Malaysia. Despite this, Thailand has a huge coastline, with the Gulf of Thailand to the east and the Andaman Sea to the west. Plus, there's over a whopping 1400 islands!
The best time to visit Thailand is between November and April, during the country's dry season. The rainy season is between May and October, but it'll still be hot during this time! Thailand is famously hot, with temperatures soaring above 40oC between March and May. It's advised to avoid travelling to the north between late January and mid-April, as it's the burning season.
You could spend months or even years travelling in Thailand, visiting picture perfect islands, exploring the national parks, taking in the historical artefacts, tasting the unique cuisine and meeting some of the friendliest people in the world (Thailand is known as 'land of the smiles')!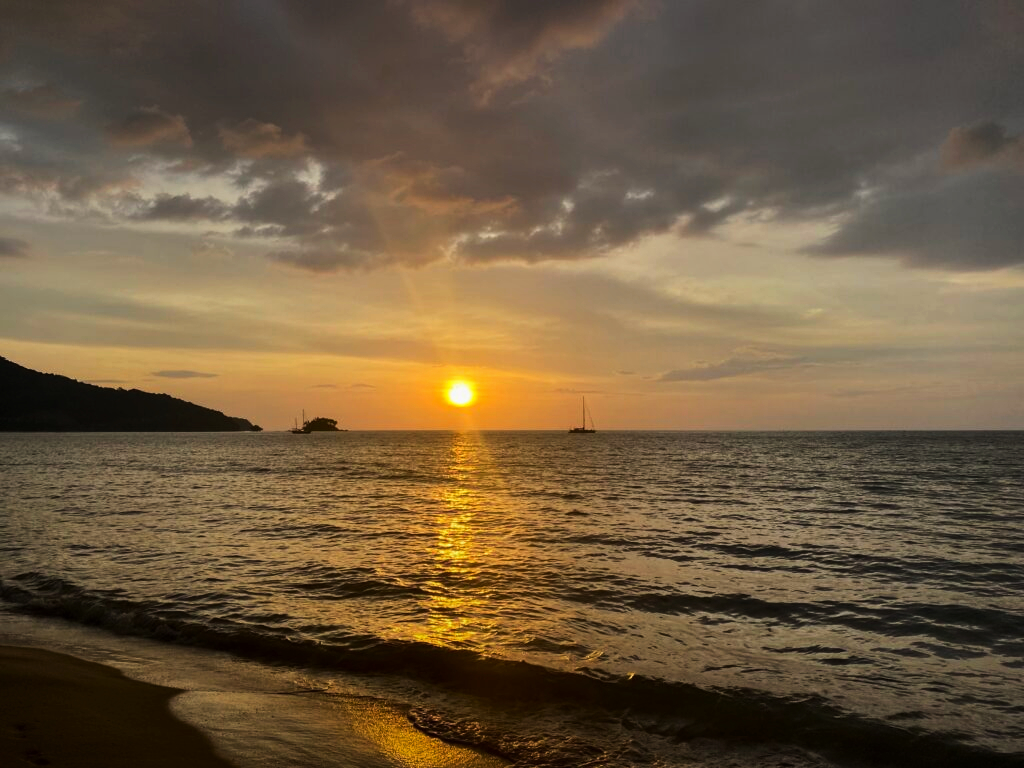 Cultural Considerations: Thai do's and don'ts
When visiting a country vastly different from our own, we like to brush up on the countries' customs. Here's our summary of the main do's and don'ts to consider when travelling in Thailand:
Greetings
When greeting people, put your hands in a prayer position and gently bow your head. You can do this while saying hello ('sawaat dee khrap/kha').
The Feet
In Thai culture, feet are considered the lowest and dirtiest part of the body. This means it's very disrespectful to point at things with your feet, and to have your feet above someone's head (not sure in what scenario you would). This is why it's common to be asked to remove shoes before going inside temples, peoples homes and some restaurants.
The Head
If the feet are the lowest part of the body, the head is the highest. This is why it's rude to touch a Thai person's head. So however cute the kid is, resist ruffling up their hair. Don't worry though, head massages are okay.
The Royal Family
Don't bad mouth the king or the royal family. Seriously, don't! It's actually against the law, and this includes what you say online and on social media. This rule extends to money too. Never stand on a coin or bank note. If the king is not to be disrespected and the feet are seen as dirty, you can see why standing on money with the king's image on it is seen as disrespectful.
Temples
If visiting temples or palaces, make sure shoulders and knees are covered. Avoid wearing low cut tops, tight and see-through clothes. Always remove shoes before entering and don't walk in front of people praying. Buddha monuments should be respected too. It should go without saying, but don't climb or sit on the statues, and tattoos of the Buddha are also a big no-no.
Tipping
Tipping in Thailand is welcomed but definitely not expected. From my experience, here's a general guide to tipping:
In restaurants, tipping isn't standard. You can leave some small change behind if you like. But note; in upscale restaurants you might get a 10% service charge added to the bill.
Tipping in hotels isn't expected, but feel free to give a small tip to anyone who's helped carry your bags.
You don't need to tip taxi drivers, but they might round up the fare to the nearest ten.
It's typical to tip tour guides in Thailand. Something around 500 baht per day is standard.
After a massage, a tip of 10% or 100 baht directly to the therapist is appreciated.
Other
Avoid public displays of affection.
Avoid smoking around others and use designated smoking areas.
During covid times – wear a face mask and be ready to show your vaccination certificate.
Vegan Friendly National foods
Thailand is known for its delicious cuisine. Unfortunately, most of the food in Thailand isn't naturally vegan (I'm looking at you fish sauce) – but don't despair! If something's marked as vegetarian on a menu, it will likely be vegan, as dairy is rarely used in Thai dishes. If you're worried, just double check no dairy, egg or fish sauce has been added!
Mango Sticky Rice
Mango sticky rice may be the only accidentally vegan dish thailand offers. Its Thai name is 'khao niaow ma muang' and it's made with sticky rice (obviously), coconut milk, sugar and mangos (again, obviously). I'm not a coconut fan, but I even like this dish (might have something to do with the mango and sugar?), so if you like coconut, this is a must try in Thailand!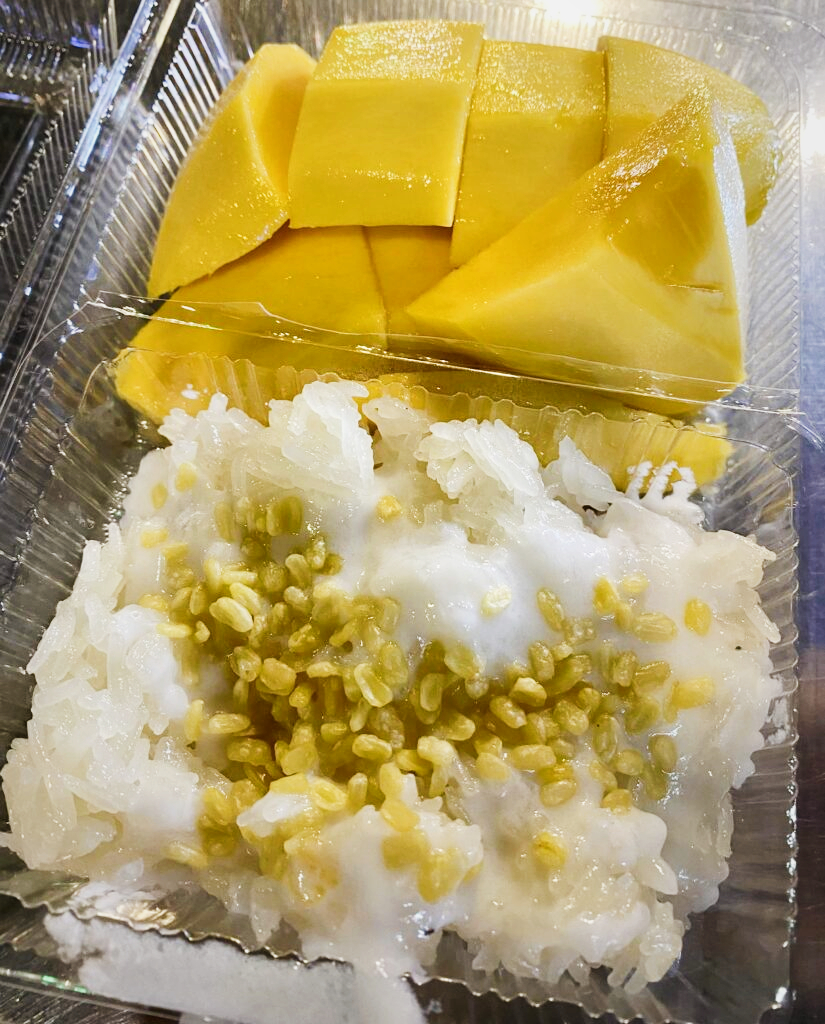 Pad Thai
You can't think about Thai food without Pad Thai coming to mind. Made with flat rice noodles, beansprouts, egg, fish sauce, tamarind and topped with crunchy peanuts. It's a perfect blend of sweet, savoury and sour. Typically a street dish, you can find this everywhere in Thailand. You can veganise Pad Thai by asking for the egg and fish sauce to be removed.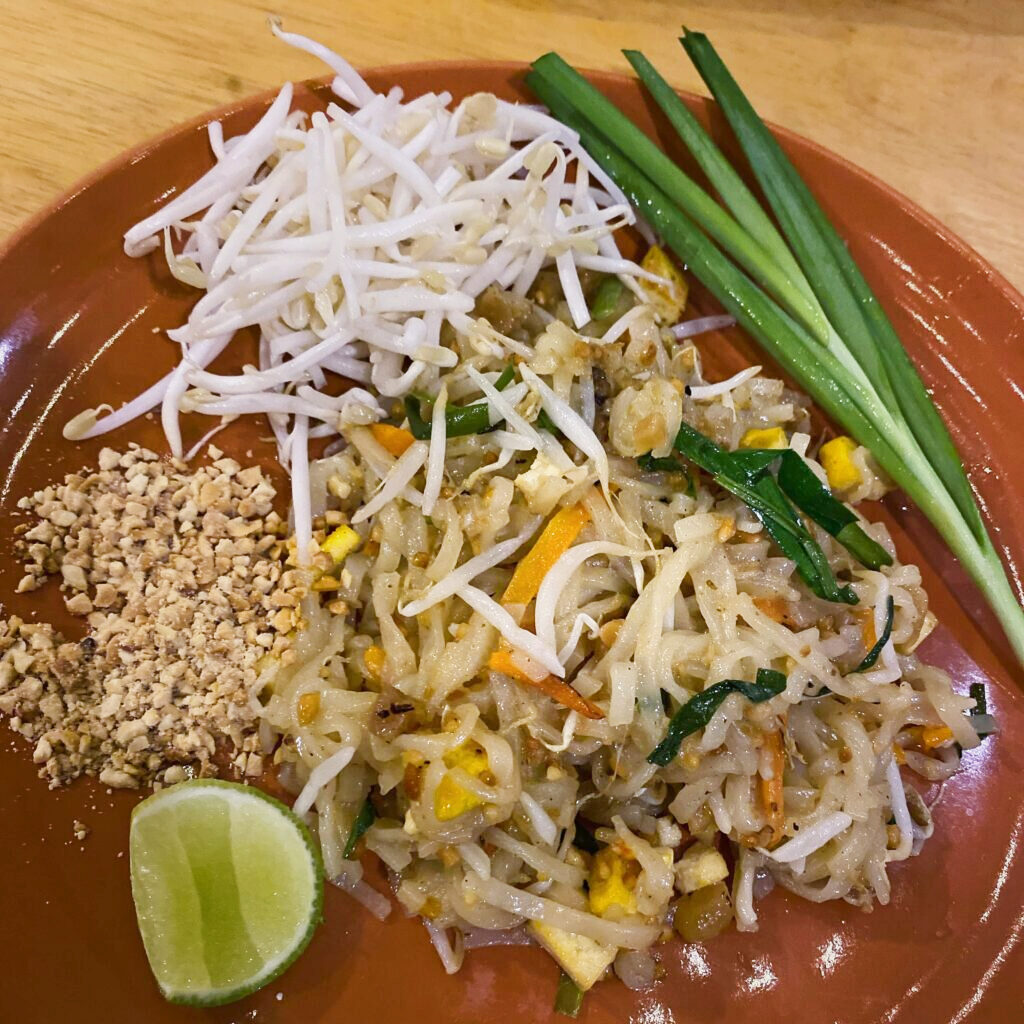 Green Curry and Red Curry
Thai green or red curry are famous Thai dishes that you'll find in every Thai restaurant around the world. Red curry is usually the hotter of the two, but depending on your spice tolerance both versions can blow your head off – so be sure to ask for not spicy if you need to!
You need to watch out for fish sauce that's been added to the curry paste, but if the curry is listed on a vegetarian menu it'll be safe. If you're lucky you can find it with tofu added alongside vegetables.
Massaman Curry
With Malaysian and Indian influences, Massaman curry is creamy, nutty, and packed full of flavour. It's easy to find a vegan Massaman, as fish isn't traditionally added to the paste. Instead, whole spices and peanuts are used.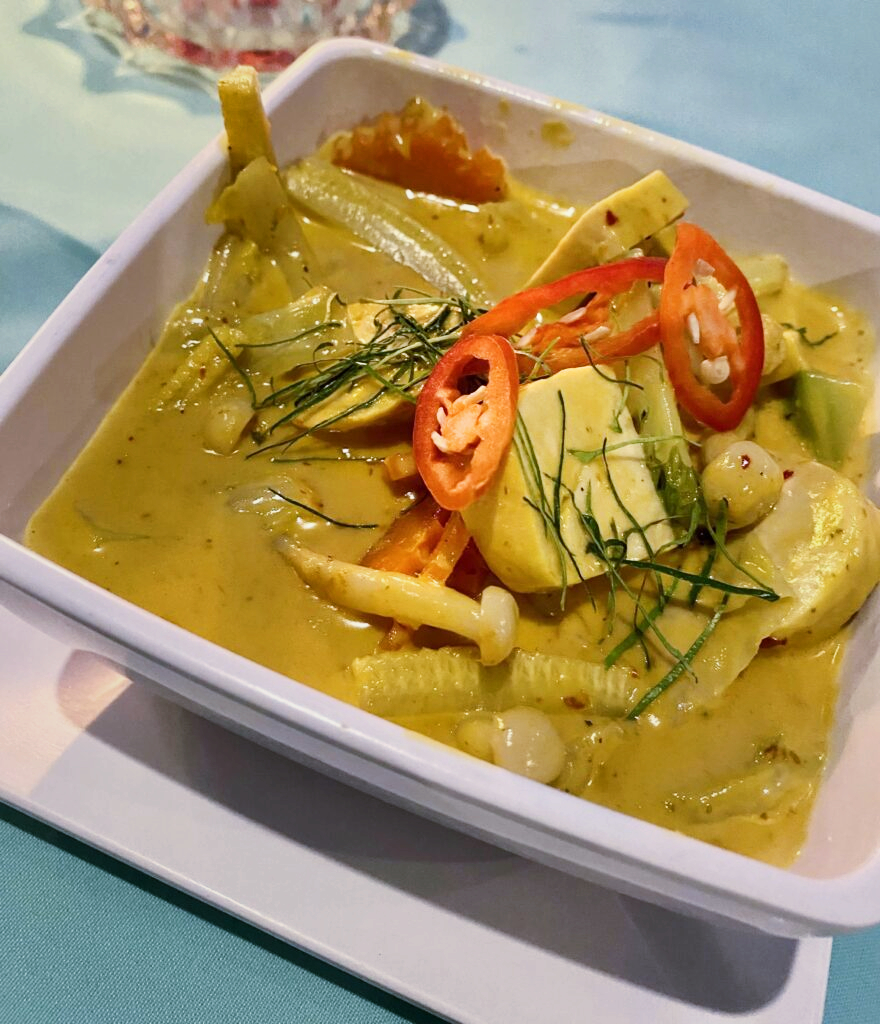 Papaya Salad/Som Tam
Papaya salad is probably the most famous Thai salad. It hits all the tastebuds being savoury, sour, sweet and spicy. Unfortunately for us vegans it normally contains fish sauce.
Khao Soi
This is my favourite Thai dish. Khao Soi is a thick, creamy, coconut curry noodle soup topped with pickles, coriander, shallots and most importantly, crispy noodles. It's also served with chilli sauce and fresh lime. It's not as common to find Khao Soi on menus vs. Thai red/green curries, but when you do, it's totally worth it!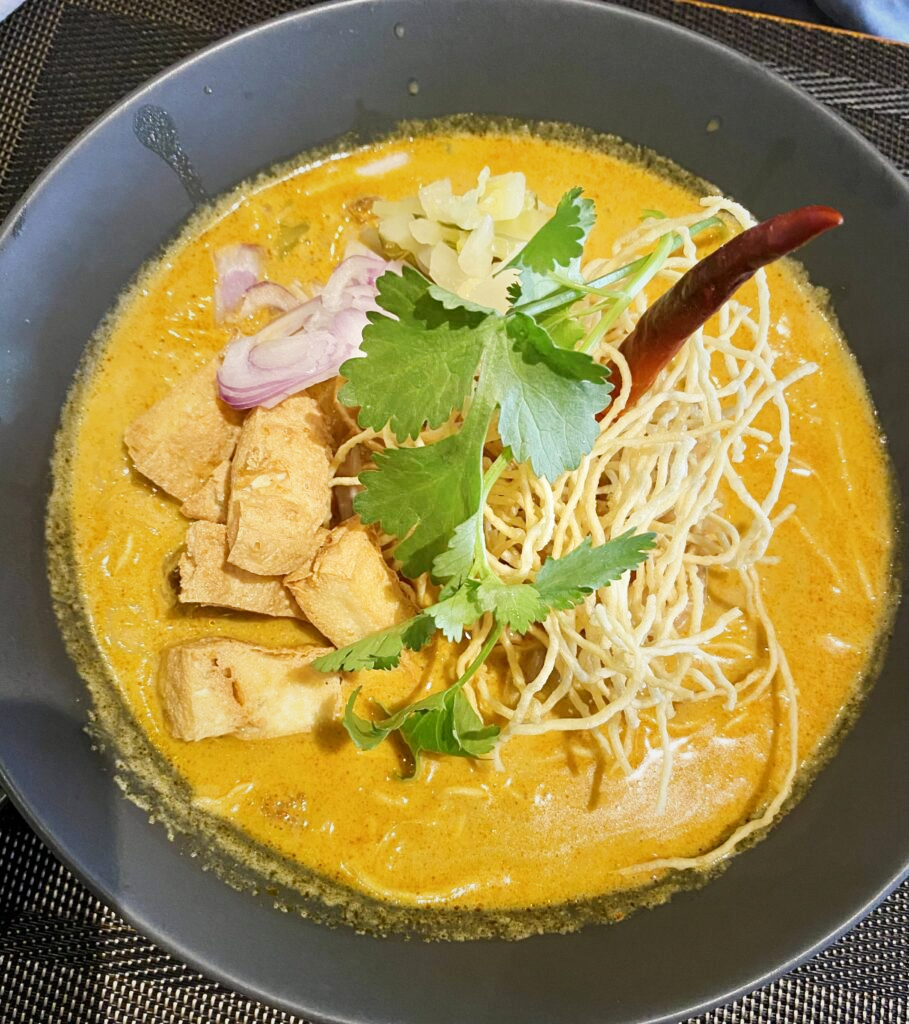 Tom Yum Soup
Famously spicy, tom yum soup packs a punch, but is more than just chilli. It's a blend of lemongrass, galangal, kaffir lime, chilli and shallots. Tom Yum usually comes with prawns and lots of fish sauce, so look out for vegetarian versions that won't have fish added. If you're like Oli and can handle the spice, definitely give it a try! If you're like me and prefer something milder, opt for Tom Kha Gai, the less-spicy version with coconut milk.
There are more Thai dishes you can find that can be veganised:
Pak Boong – stir fried morning glory (watch out for fish sauce).
Khao Pad – fried rice (watch out for egg).
Tom Kha Gai – like tom yum soup but with coconut to make it less spicy.
Laab – spicy salad with mint, usually made with meat but can be made with mushroom and/or tofu.
Pad See Eiw – thick rice noodle stir fry (watch out for fish sauce).
Cooking Class
One of my favourite things we did in Thailand was a cooking class. Usually vegetarian, May Kaidee made our class completely vegan. We were also really lucky that we were the only ones there – so we had a private class! We made Tom Yum soup, Tom Kha Gai soup, Massaman curry with mock chicken, green and red curry pastes and curry with tofu, satay sauce, Pad Thai, papaya salad and mango sticky rice. Safe to say we were stuffed afterwards!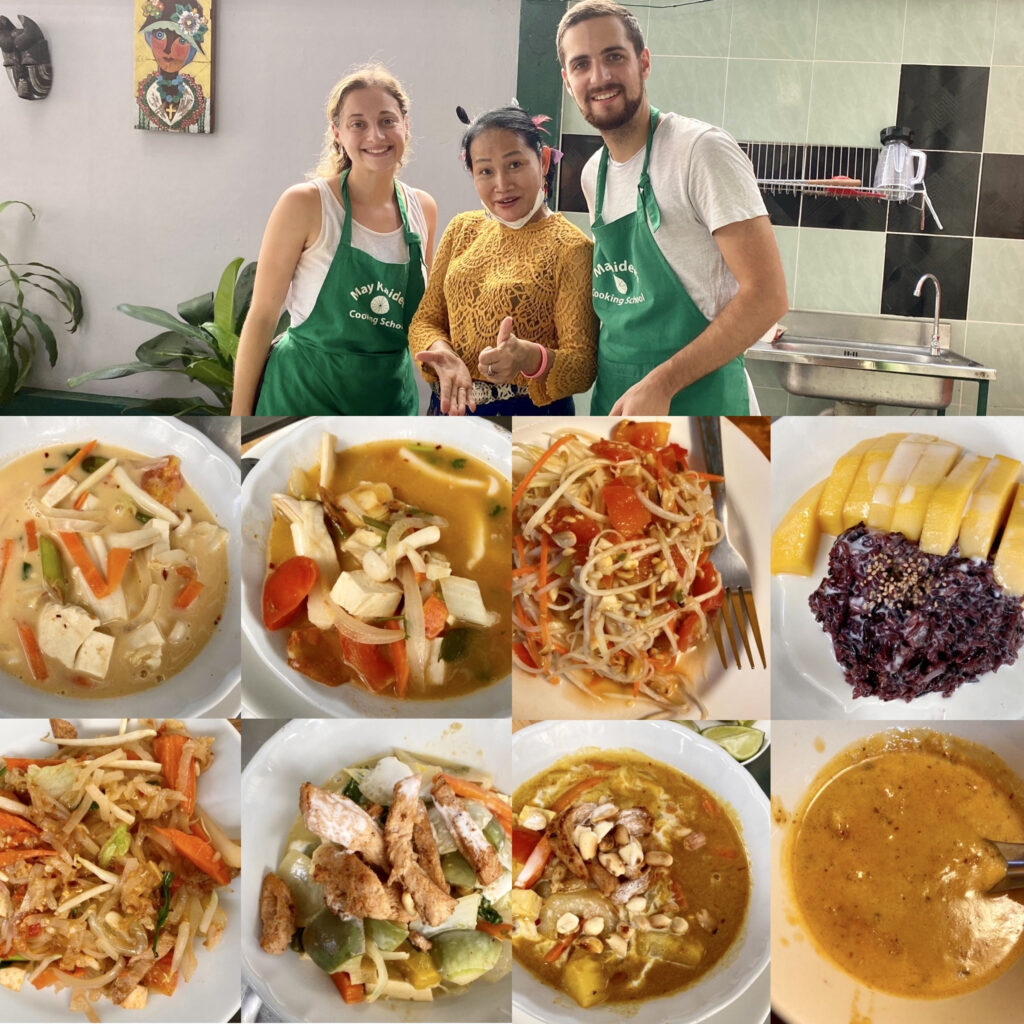 Useful phrases
Many menus will have English translations, but if you want to be prepared and be able to effectively communicate with locals, here's some useful phrases if you're vegan and travelling in Thailand: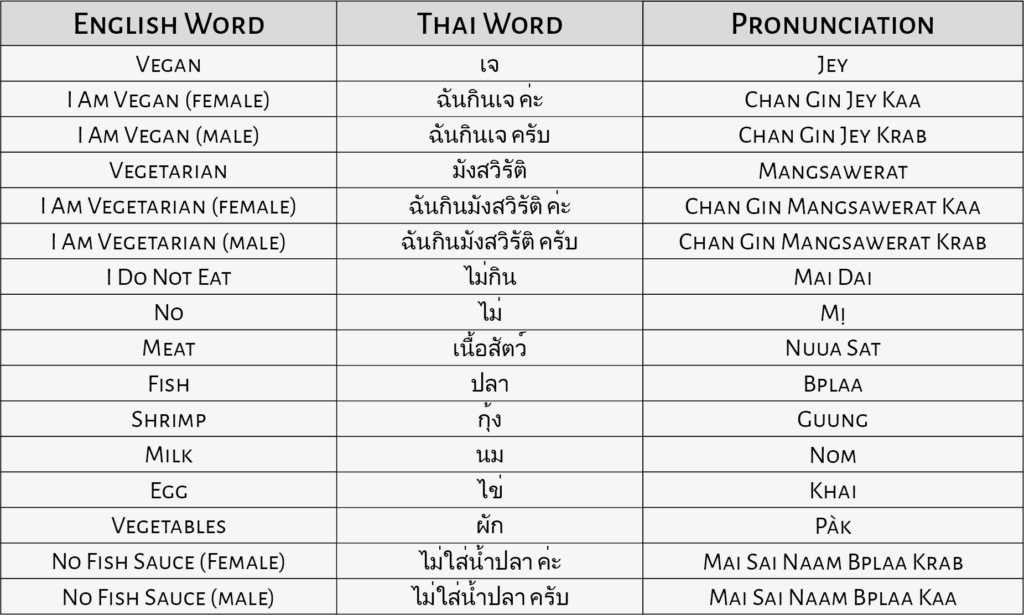 Favourite restaurants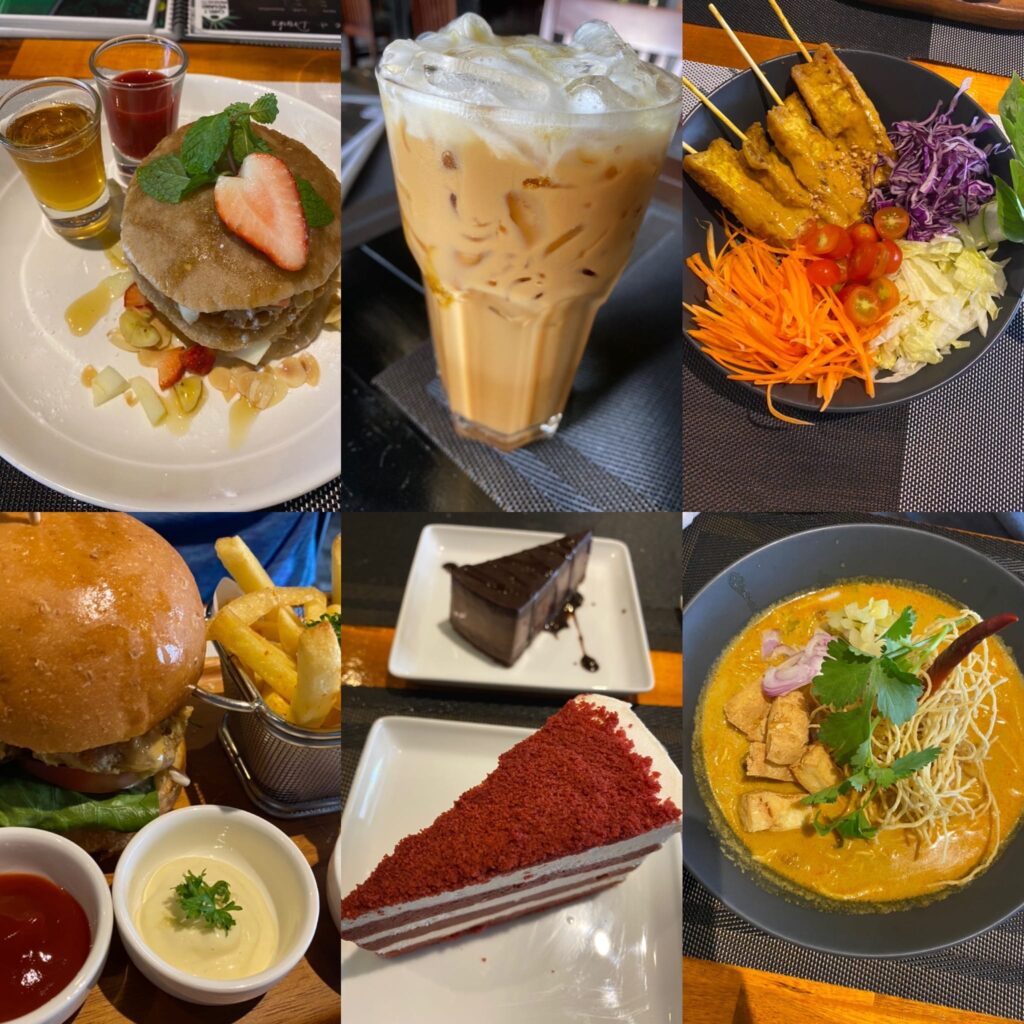 There are some amazing vegan restaurants to discover in Thailand, which offer both traditional Thai and western food. In our experience we found them to be more expensive than local, non-vegan restaurants. Remember – if a restaurant has a vegetarian menu or section, you'll be able to have a vegan meal there!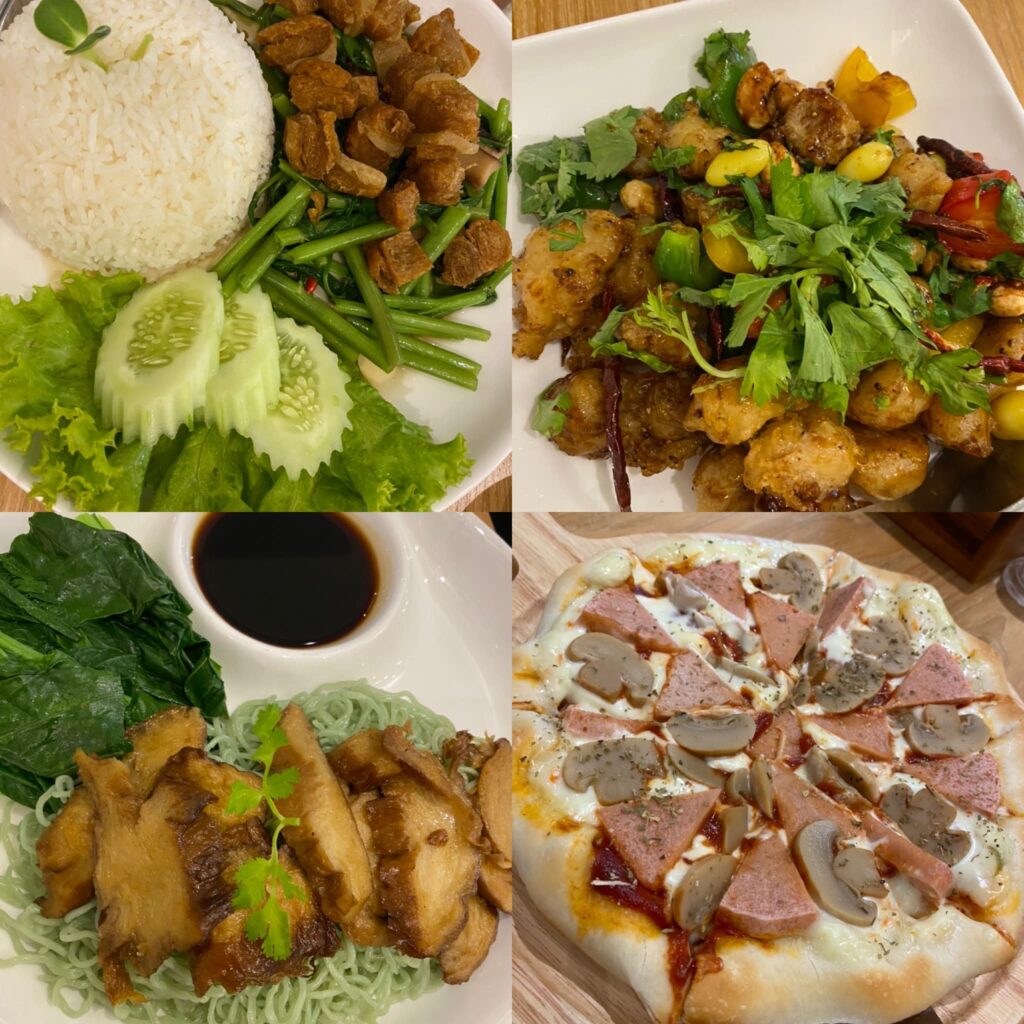 Here's a list of our favourite restaurants in Thailand: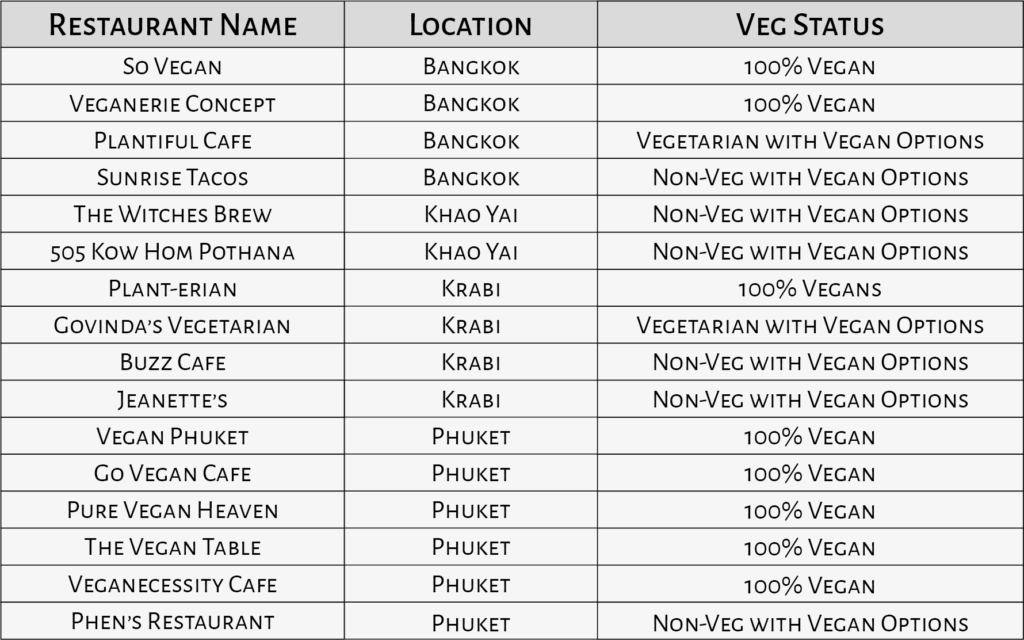 Shopping tips
There are lots of supermarkets (Tesco Lotus, Big C, FamilyMart, Macro, Tops) and convenience stores (usually 7-eleven) in Thailand that are very well stocked. So if you have access to a kitchen you'll find everything you'd need to make delicious, balanced vegan meals.
One of the best things about Thailand was that tofu was readily available, we found so many different varieties!
We also found different mock meats. The most common brand is called 'Meat Zero'. They make things like chicken nuggets, mock duck, ground meat and crispy pork. We even found these in a few 7-eleven's! I recommend the duck and crispy pork is really good.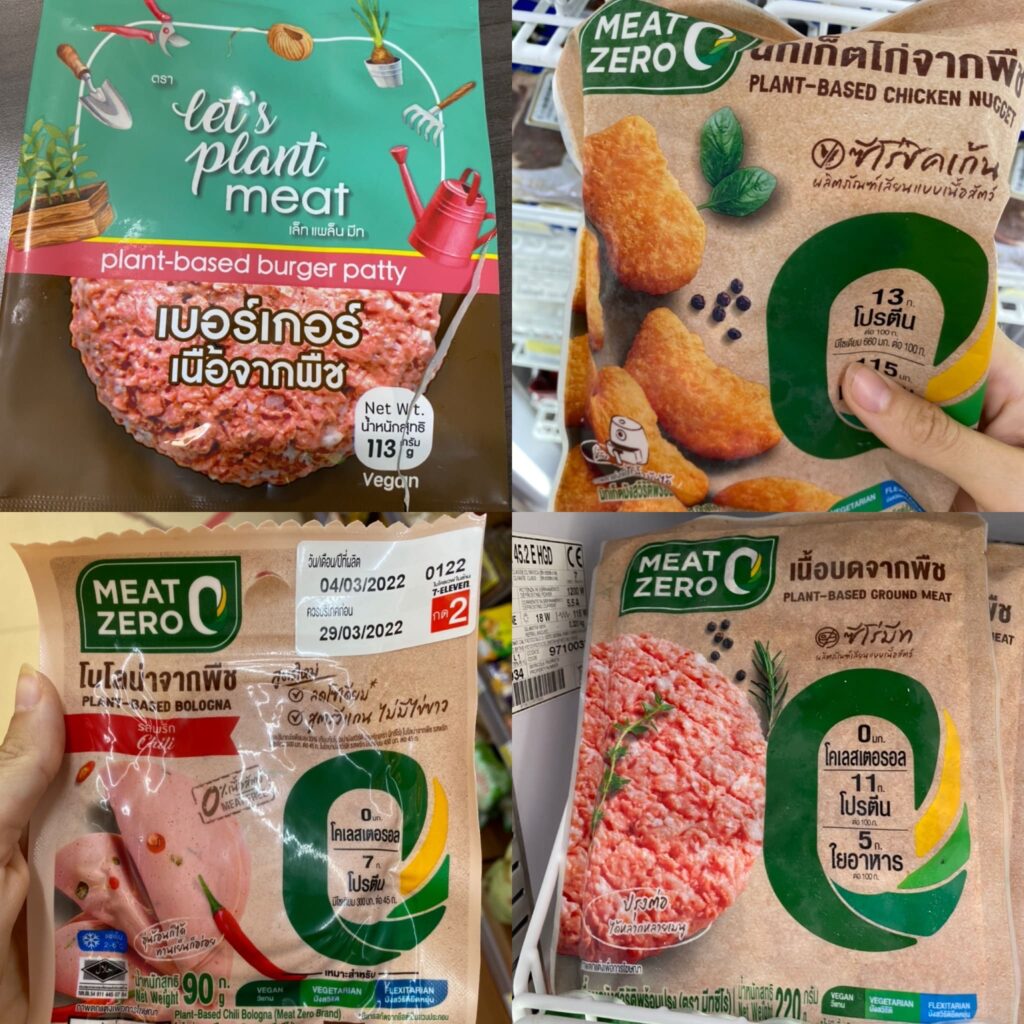 Our absolute favourite find was 'let's plant meat' plant-based burgers we found in Karabi's Macro. They were delicious. I think we ate them nearly every night we were there! I can't recommend these enough.
Favourite Vegan Snacks
With 7-eleven's on every corner, you're never that far away from a snack in Thailand. We spent a lot of time in these convenience stores checking labels, and we were pleased to find a number of vegan-friendly products.
Some of our favourite vegan snacks we found when travelling in Thailand:
Dried mango
Lays crisps (original and extra BBQ are great)
Green pea snack
Makado salted sticks
Rivon soy yoghurt
Malkist sugar crackers
Hup Seng cream crackers
Struggles with food in Thailand
Fish
Our biggest struggle with food in Thailand was the addition of fish sauce to (what felt like) everything. Shrimp is also added to so many things as both a paste and dried. The biggest surprise for us was the amount of crisps shrimp was added too! So called 'plain' flavours would have shrimp on the ingredients list.
Non-Dairy Milk
There are lots of different alternatives to dairy milk available in Thailand. But, like Nepal, some alternative milks have some dairy added to them, so be sure to check the labels.
Why would dairy be added to soy milk? The first thing to understand is that soy milk isn't drunk as an alternative to dairy milk. It's drunk because it's part of the culture, it's cheap, a good source of protein, and tasty. So if milk is added to the soy milk, it's not usually a concern to (non-vegan) Thai people. While we might not like it, milk is added to improve the taste for dairy drinkers, make a creamier texture or add more protein/nutrients.
Final Comments
Overall, we found it a bit harder to be vegan when travelling in Thailand than we thought we would, but we weren't deprived!
With a bit of imagination and tweaking of dishes we were able to successfully eat out. Looking back, we arrived in Thailand just as it was re-opening to tourists after covid lockdowns. I'd look on the Happycow app for places to eat, and a lot of restaurants unfortunately were closed down or temporarily closed, which made it harder to eat out. So we'd definitely recommend staying in places with a kitchen so you can whip up our own meals.
Thailand is an amazing country, and although the food is a big draw, it's so much more than that. The beautiful scenery and welcoming people are enough to warrant a trip there.